Tent where asylum seekers wait to cross into the U.S.
by Carol Rose
They dared to leave before they were killed.  They dared to look for refuge in the belly of a beast that had a great part in creating the conditions of violence in their land.
On the evening of Christmas Day, after months of travel and delay, a couple and their little baby were still waiting at the gate. They had been next in line in the tent set up for asylum seekers at the border for days and nights.  They had shivered in the wind.  They had received a Christmas feast from local supporters.  They had been under constant surveillance by armed groups that might still threaten them.  They had been accompanied here by CPTers Jack and Linda Knox, Carol Rose, and Duane Ediger. They had been accompanied by many others as well in those days.
The forecast for the 26th was for rain.  By the 28th, there might be snow.  U.S. Border officials stood with little protection from the wind, but had a large space heater on the other side of the gate.  However, they never seemed to know when those above them who made decisions would allow one more asylum-seeking family in.
I wondered:  Was it a treacherous trek across the desert for Mary, Joseph and Jesus?  Did they have to wait, shivering at the gates of Egypt, still vulnerable to attack by Herod?  Were there people who stood with them from among their own people and among the oppressing nations?
With great joy, this family got the call in the morning rain the day after Christmas.  Excited jumps.  Moments racing about to assure that all their things were collected in those few small bags.  Hugs from those next in line and those of us accompanying.  They crossed the border hoping against hope in this next step on the long journey towards a safe enough home.
I wondered:  Who of my people will be the lucky ones to have this holy family as neighbors?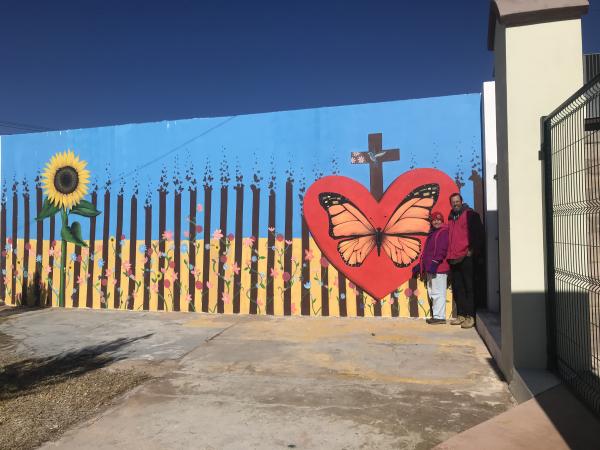 CPTers Carol Rose and Duane Ediger at the Migrant Resource Center, in Agua Prieta, Sonora.