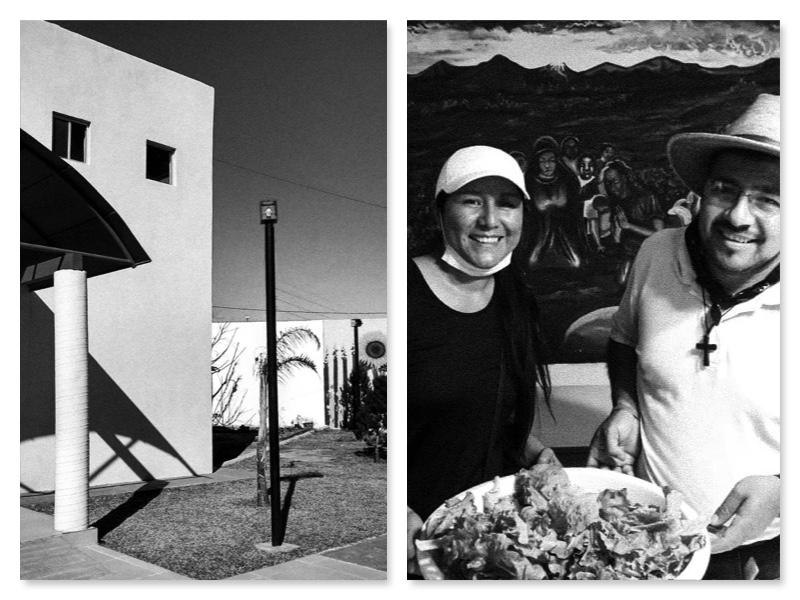 The CAME Center on left; couple in CAME diningroom on right
by Linda Knox
In February of this year, Ernesto and Maria* arrived at the CAME (Centro de Atencion al Migrante Exodos) migrant shelter in Agua Prieta, Sonora. Fleeing extortion and threats of violence from the organized crime groups in southern Mexico's State of Guerrero, they hoped to present their asylum claim at the U.S. Port of Entry and to live with family members in Indiana while they awaited their asylum hearing.
In the past year, local volunteers, members of Presbyterian Peace Fellowship (PPF), and CPT reservists accompanied over 1000 asylum seekers in Agua Prieta from the shelter to the tent by the port of entry. People who made it to the tent waited from three days to three weeks for their turn to make their claim with U.S. Customs officials. Since unaccompanied migrants were in danger of kidnapping or extortion by the local cartel, CPT, PPF, and local accompaniers walked with these families back and forth from the tent to the Migrant Resource Center three times a day for showers, bathroom breaks, food, and relaxation.
Then Covid-19 arrived; CPT and PPF closed their operations, and on 21 March, the U.S. government used the health crisis as an excuse to stop accepting people with asylum claims.
Maria and Ernesto had made it to the tent just a few days earlier, and when the U.S. closed the border, they were the very next family in line to make their claim. The other two families waiting there have gone back to the CAME shelter, but Maria and Ernesto are still living in the tent. Now they have been there for more than two months [Note: this article was written in May 2020]. Local volunteers still accompany them to the Migrant Resource Center. Besides the usual break time, they are helping clean in and outside of the building and to take care of the garden started by volunteers. They have harvested vegetables the CAME uses for salads.
Now they are not sure if they will continue living in the tent through the hot summer months. The U.S. has extended its border restrictions until late June, and there is no guarantee it will lift those restrictions at that time or any time in the near future. People all across the U.S./Mexican border are living in uncertain and dangerous conditions. Ernesto and Maria's situation is definitely uncertain, but, thanks to the many people, including CPT, who are accompanying migrants in Agua Prieta, their situation is not quite so dangerous.
*Names have been changed.