24 July 2020

Burnt farmland from Barmiza village in the Sidakan area after Turkish bombardments.
During a press conference on 15 July 2020, Hakan Karacay, Consul General of the Republic of Turkey in Erbil, responded to a question about the ongoing Turkish military operation in Iraqi Kurdistan by saying, "We have never targeted any civilians."
We as Christian Peacemaker Teams-Iraqi Kurdistan (CPT-IK), an international human rights organization that has been documenting the impacts of Turkish military operations on civilian lives and livelihoods since 2007, would like to bring attention to the fact that Mr. Hakan Karacay's statement does not correspond with reality. 
The Turkish Air Force's Operation Claw-Eagle launched on 15 June 2020 followed by the Turkish land incursion Operation Claw-Tiger on 17 June, have killed at least six civilians and wounded at least four. In addition, these military operations have burned agricultural lands, orchards and livestock and threatened the existence of many villages.    
On 17 June, a Turkish airstrike killed Abas Maghdid, 30- years-old, in Khnera heights in the sub-district of Sidakan. Abas was a nomadic shepherd. CPT-IK learned of his killing from a trusted partner.   
On 19 June, a Turkish airstrike killed five men who went for a leisure trip to the Balanda valley near Sheladze after work. CPT-IK was able to document the names of four of them: Mukhlis Adam, Azad Mahdi, Deman Omar, and Ameen Salih.
More information on the incident is here.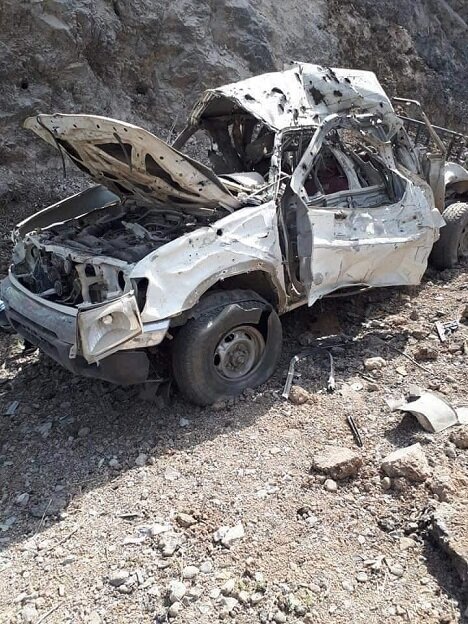 A damaged car from the Turkish bombardments in Shiladze.
On 25 June, a Turkish drone bombed a grocery store in a picnic area of Kuna Masi while many families were in the vicinity. The attack severed the leg of Peyman Talib, a 31-year-old woman, from the knee down, broke her second leg in many places and burned both of her arms. Talib's husband, Keywan Kawa, 30, and their two children, a 7-year-old girl and a 5-year-old boy, were also injured in the attack.
A video interview with the family members has been published here.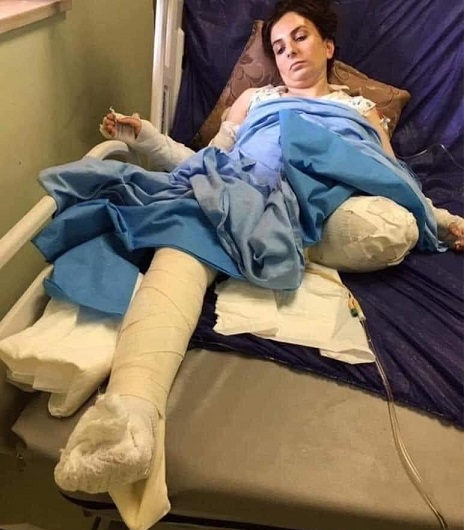 Peyman Talib, injured by the Turkish airstrikes in Kuna Masi. CPT got this picture from the Kurdish journalist Rebaz Majeed.
On 10 July, residents of Avla village, Batifa sub-district, Duhok province, fled their homes after Turkish forces dropped 26 bombs on the village. 
More information about the bombing is here.
On 11 July, Turkish artillery targeted Bedihe village in Duhok province with six mortars causing damage to ten households. The artillery also damaged groves and orchards of locals in the area. 
More information the assault on Bedihe is here.
Operations Claw-Eagle and Claw-Tiger are an extension of a three-decades-long war the Turkish military has been waging against the Kurdistan Workers' Party (PKK) in the territory of the Kurdistan Region of Iraq. According to CPT-IK's documentation, since August 2015, Turkish fighter jets, drones, artillery bombardments and gunfire have killed at least 85 and wounded more than 95 civilians. Of the 85 fatalities, 15 civilians were killed in the first six months of 2020 alone. The Turkish operations have emptied more than one hundred villages and caused an alarming deterioration of safety and economic security for several thousand families. 
CPT-IK calls on the Government of Turkey to respect civilian lives and put an end to its military operations in the territory of Iraq.
Additional information: 
Families that lost members in Turkish attacks are asking for an end to the bombings. Learn more about their Hear Us Now: Stop the Bombing! campaign here.
To read CPT-IK's latest reports and learn more about the impacts of Turkish bombings on the civilian population in the Kurdistan Region of Iraq please click here. 
JULY 21, 2020