31 July 2020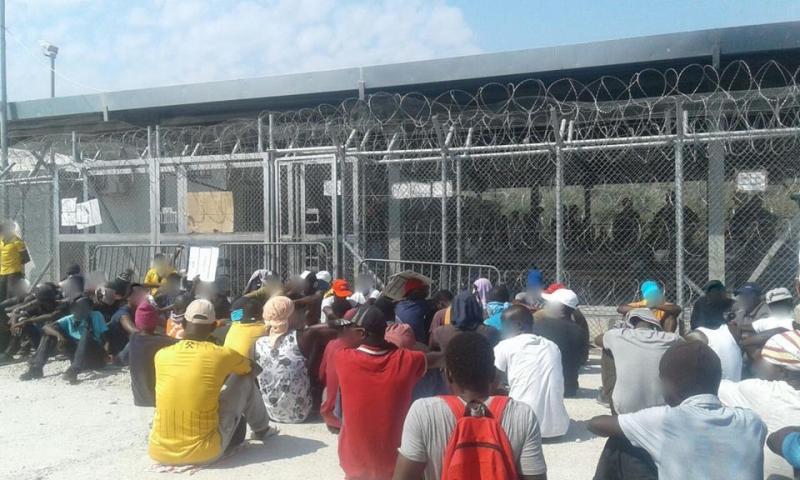 Peaceful protest in support of the Moria 35 a mass arrest in 2017 of African migrants who were protesting living conditions in Moria.
Those advocating for them widely considered the arrests to be racist on the part of the Greek police.
The Universal Declaration of Human Rights, adopted in 1948, states that everyone is "entitled to all the rights and freedoms set forth in this Declaration without distinction of any kind." At the same time, the U.N. states that,  "In the past, the United States and South Africa have used systems of racial segregation. Although these policies are now behind us, isolated cases of racism still persist in various parts of the world." If we open our eyes a little, if we pay attention to the present, we quickly realize that such statements do not match the reality of many people. If we focus our attention on Lesvos we find, without much effort, explicit examples of systemic racist behaviour, institutional racism, and racial segregation. Lesvos is the third largest island in Greece, only 14 km away from Turkey, and since 2015 it has been at the heart of Europe's migration crisis. Currently, Greece holds 21,000 asylum seekers on this island, mostly in Moria camp, a place initially conceived for 3500 people.
The examples below show how racism runs through Mytilene's infrastructure, through informal rules designed to block the full participation of migrants in public life. These rules form an unwritten code by which citizenship rights, access to public space and basic needs are given only to Europeans. Often they enforce the demands of the island's racist right; often they are enforced by its vigilantes. The unspoken nature of these rules means that, despite their existence, they are officially deniable.
***
Tax office
Apart from the asylum procedure, all aspects of daily life are different if you are a migrant. The notorious Greek bureaucracy that is already difficult to navigate as a Greek or European, is almost impossible to penetrate as migrant. Everything is written in Greek and in almost all public sectors, Greek is the only spoken language. On Lesvos Island in particular, the Greek state applies rules different from the rest of Greece. For example, without a Personal Tax Number, known as an AFM, a person can't rent a house, can't get a job, and can't open a bank account. On Lesvos Island, the tax office began to ask for peoples' addresses to give them an AFM. Moria camp, where most migrants live, is not an acceptable address. This rule doesn't apply to the rest of Greece. So even if people are financially able to rent a house outside Moria camp, it is impossible to do it because they can't get this number. Over the last few days, people that were transferred to Athens and accepted into the International Organisation for Migration's 'Helios' housing program have returned to Lesvos because they don't have the AFM.
Housing
If migrants manage to navigate the bureaucracy of the tax system, they face another block in finding housing. In the private rented sector, an informal "no migrants" attitude is normal. Many landlords say explicitly that they will not rent to anybody planning to house migrants as well. Some have experienced evictions at short notice when landlords learn that their tenants are hosting migrants. In 2018, an organised citizens' patrol group in Gera, Lesvos, went door-to-door checking whether migrants had been transferred into local housing. That year, private individuals and local businesses took Pikpa refugee camp to court in an attempt to close the place down on the basis that the presence of migrants on local beaches was financially damaging. And in February and March 2020, patrol groups in Moria village, close to the camp, attacked the homes of migrant solidarity activists and beat up passing migrants.   
Access to money
Nine days after the imposition of Covid-19 restrictions in Lesvos, the New Democracy government announced the suspension of the 90 Euro per month cash assistance program for those in Moria camp. The government implemented the measure in order to prevent migrants from traveling to Mytilene to access ATMs. Over the previous months, access to ATMs had become symbolic of a lost way of life for the island's Right. Municipal Councilors and the Regional Governor complained that locals could not access cash "because of the queues of migrants," while witnesses reported vigilante groups establishing a "locals first" queuing system at ATMs. The government announced the installation of a single ATM inside the camp for more than 20,000 people held there. 
Port
One of the main problems faced by asylum seekers is mobility to the mainland, usually Athens. After a long time, months and even years, spent waiting for the validation of their transfer by the European Asylum Support Office, the accepted persons have to go to the port to take a ferry. Once in the port, a violent, unfair and random selection takes place, led by the police officers of the Mytilene Port Authority. They force migrants to wait in a separate line, shout at them and insult them, and treat them like cattle. On many occasions, police resort to violence in order to control and disperse the crowd. Images have circulated on social media of people with head wounds from police batons. After this battle, the discrimination continues. First, their access to the ferry is via a different staircase than that used by Greek or other international passengers. Once on the ferry, those who have managed to get through are separated from the rest of the passengers. The 7th floor is reserved for migrants while the others are for other local and international passengers.
In early March 2020, Mytilene Port was the site of an informal detention camp for migrants who arrived on the island after Greece temporarily suspended the right to apply for asylum. They were locked in the pre-departure area without access to proper shelter and electricity, guarded by officers with the support of far-right vigilante groups. Vigilantes noticed a group of Europeans attempting to talk to the migrants through the fence and called the police, who detained the group without justification and held them for attempting to communicate with the migrant detainees.
Supermarket
In order to get food, the people in Moria camp have to stand in long and desperate queues, often under extreme weather conditions. Yet, as mentioned above, more than 20,000 people live in a camp built for 3500, so the food is largely insufficient. In order to survive, most must go to the supermarket. White people do not need to identify themselves, wash their hands, or bring a mask.  Migrants do. Now, with Moria camp in lockdown while the rest of the island population can move freely, migrants held in the camp need permission from the police in order to leave. They cannot access the supermarket if they do not carry the paper granting them permission, if they do not bring a mask with them, and if they do not sanitize first. Of course, queuing is exclusively for them, since the stores ration their entrance.
Public recreational space
Public spaces are also often segregated. With the arrival of the summer heat and the end of the quarantine, people have started going to the beach, some less easily than others. On many occasions, locals and even the police kick out those they consider unsuitable for these spaces. According to Mohammadi T, an Afghan interpreter working for an NGO, "We were on the beach with my children. Suddenly the police came and threw us out. I asked them what we had done wrong and they replied, 'Nothing, this is our beach, it is not for you.'" 
Access to public beaches has been segregated for years in Mytilene. In June 2018, Mytilene's municipality-managed Tsamakia beach hung a sign on its doors stating, "Entry to nationals of non-Schengen countries is only permitted with a passport." And in 2019, a group of far-right locals, some of whom belonged to the Movement of Free Citizens Party, erected a giant crucifix overlooking Apelli beach. Many migrants used the beach, and the incident led to the cancellation of Nowrooz (Persian New Year) celebrations that had been planned in the area.
***
Once again, racist Europe is showing its best face, daring to claim that racism is a thing of the past. Once again it hides its own hands while it is not only aware of racial segregation, but approves and congratulates the actions of its member states and their denigrating, violent, murderous policies. It tolerates police actions to punish those that didn't have the chance to be born here.
We should remember the mistakes, the violence and the oppression of the past. But we must also be aware of the present. It is important to give a name to the social strategies of discrimination, racism and segregation. However, before we can resist these practices, we must recognise that they exist. Only then can we, once and for all, make sure that they remain in the past.