21 September 2020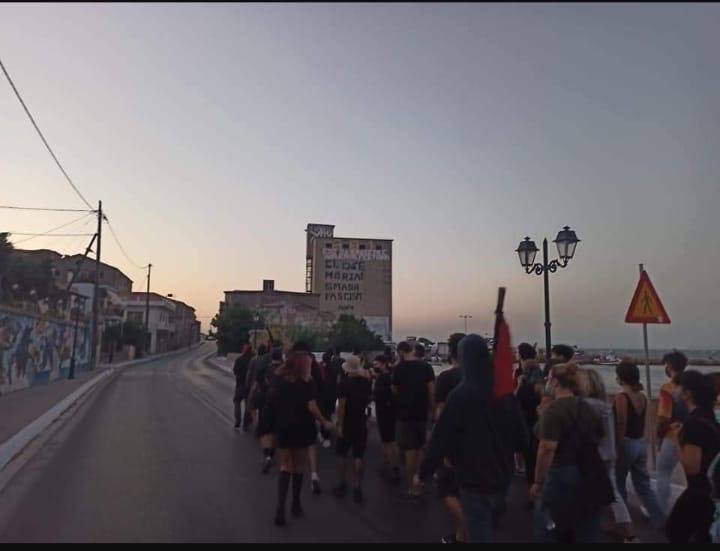 by AMS team
 
Even though the fires have destroyed Moria camp, the structures of injustice upholding this notorious hellhole have remained intact. All the violence and despair have become more apparent to the surrounding areas. The tensions from every possible and improbable side overflow and the most immediate victims are the weakest and most vulnerable.
In the last 48 hours, there have been numerous protests by migrants, some of them peaceful and others not, with the police forces making extensive use of tear gas in a crowd that included families and children. Their demand is but one: "we want to get out of here".
The authorities are building a new temporary camp in the area of ​​Kara Tepe to address the immediate needs for housing, food and medical care. Migrants are afraid to enter the temporary camp, and many of them prefer to stay on the road in hopes of leaving. They fear the new camp for several reasons, fear that it will burn again, fear that they will remain imprisoned for months or years like in Moria, and fear that the Greek state will deport them in the future. And they are very aware that there are no guarantees that these fears will not become a reality.
The public opinion in Lesvos is also polarly divided and has descended into a warlike tension. Nobody wants a new detention center because everyone is afraid it will become another Moria. Far-right vigilantes are attacking immigrants and the organizations that stand in solidarity with them at every opportunity, often with the police's help.
On 11 September, anti-fascists marched from Mytilene to Kara Tepe, with the slogan "no more Moria" and "solidarity with migrants". Unprovoked, the police attacked the peaceful demonstration with teargas and sound-flash grenades, beating many protesters. In an attempt to escape from the police, a group of protesters ran into the streets of Mytilene, where local right-wing extremists also attacked them.
The state has responded by bringing more police, armoured vehicles, and water cannons to the island. Everything looks like war. In the coming days, organizations and migrants expect continued violence from the police, by forcefully lock them up in the temporary detention centre and responding violently to any locals who oppose the construction of a new detention centre elsewhere on the island.