We hear the shots
To be Colombian is to grow up in a contradiction. We have a long militaristic history created under the idyllic and almost fanciful idea of defending something that no one understands but that everyone knows as "the homeland." In this story, as in any good narrative, we have friends and enemies of "the homeland." The people who define the enemies are "coincidentally" rich and powerful people with enough money to buy friends who kill the enemy.
We live in a paradox where the friends are impoverished people who fight against enemies who also happen to be impoverished people and where those who rule both friends and enemies are the rich and powerful. The only thing they care about is that the blood pouring out of the impoverished does not stain their clothes.
A country that murders
In our long history of internal armed conflict, we have seen how increasingly mediocre governments appeal to militarism and barbarism to solve the armed conflict. So much so that for 60 years, assassination is a job in Colombia, where protection is synonymous with murder, and murder is synonymous with heroism.
This militaristic structure considers those who carry weapons heroes, but it is so disconnected from reality that it does not explain to us how someone who kills his brothers and sisters becomes a hero without understanding why he or she did it. It is as arrogant a structure as those who run and promote it, people so arrogant and violent with poor people and so complacent with powerful people.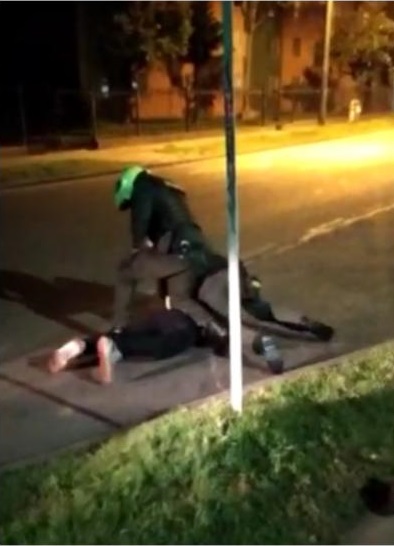 The good boy
In the House of Nariño*, where the hypocrites sit their asses, you'll find President Ivan Duque Marquez, who today occupies the most important position of power in the country. He arrived at his post by pure luck. It was the answer to what Uribismo needed to cover the dozens of corpses that hang on their backs. Duque, the candidate, was a young person, without personality, easy to handle, incompetent. But yes, he spoke and lied so well that he paid tribute to the political legacy of his mentor, former president Alvaro Uribe.
Duque was the puzzle piece for "Uribismo" to reach the heart of the people. And if the honey-covered words of the then-candidate Duque were not enough, there would always be money that could convince those who believed in change but whose pockets were empty.
Today that candidate is our president, a president who seems that his only role is to talk nicely, say that everything is fine, or say that nothing is his fault. This president has a cabinet tailored for him. A group of henchmen who rarely say or do anything, but when they do, it is against the poor and the weak and in favour of the rich and the powerful.
You won't be spared from this one!
On September 8, 2020, a 43-year-old Javier Ordoñez was arrested and electrocuted about 17 times with a taser gun while pleading with the policemen to stop beating and tasing him. A friend recorded the entire scene with his cell phone, yelled at the police to stop, and asked them if they couldn't hear Javier begging them to stop.
The police did not stop; instead, they took Javier to a nearby station, where they continued to beat him until they murdered him. There are many unresolved questions about Javier's murder, questions that must be answered by the authorities.
It is up to the authorities to give justice to the families and guarantee the Colombian people that the police, who are in charge of protecting all of us, will not continue to murder the people they are supposed to protect.
The institutional response to Javier's murder was so mediocre and insufficient that it aroused anger in the young people who identified with Javier. Their anger was so intense that they took it to the streets in the form of marches, protests, shouts and destruction with the intent of letting the national government and its institutions know that they cannot go around killing people without consequences.
The dead bodies in the closet
Bogota citizens rose up with such indignation that the police felt "obligated" to respond to the young people's questions of the government structure in charge of protecting them. And until the day of Javier Ordoñez's murder, this police structure hid other bodies in the closet, those who should have been protected, but whom they murdered.
In total, there were ten fatal victims of the government's armed response to the protest for victims of police violence. That night the police abused the use of force, carrying out illegal acts to confront the group of protesters, such as: wearing masks, turning their jackets inside out so that protestors would not identify them, using firearms, metal rods, giving firearms to men in civilian clothes, excessively beating large numbers of messengers, students and anyone who crossed their path, whether or not they were part of the protests. That night of outrage allowed us, the Colombian people, to witness that those who protect us are the ones who kill us.
Jaider Alexander Fonseca, 17
Julieth Martinez, 18
Fredy Mahecha, 20
German Smith Puentes, 25
Andres Rodriguez , 23
Angie Vaquero, 19
Juli?n Gonzales, 27
Cristian Andres Hurtado, 31
Lorwuan Estiben Mendoza, 28
Jaider Fonseca 17
These are the people killed by the Colombian National Police, that great institution that now hides ten more dead in its closet.
Uncle Sam washes his hands
In some other country in the world that is not Colombia, murder is a crime and not a profession that pays a competitive salary. The government's response to the murder of Javier Ordoñez and the police brutality against the protesters can be summarized in the following photos:
I don't know if the images need explaining. Still, it is worth saying that the image on the left is a tweet from the president of Colombia that reads as: "We must not be violent, and although violence has been used, we must stop being violent." Translation: Only we can be violent.
While in the image on the right, where you can see our president wearing the police uniform, does nothing more than illustrate a reality that we all already know. Colombia is becoming a blatant dictatorship where militarism, repression, and excessive violence prevail against the impoverished who demand that their rulers stop appeasing bankers and business people and start washing their blood-stained hands.
The national government has used all kinds of excuses to delegitimize the outrage felt by many Colombians at the police's excessive use of force. Their excuses range from the following:
All Protesters were either financed, manipulated, forced, encouraged, infiltrated, or abducted by illegal armed groups such as the FARC and ELN guerrillas. The murders committed by the police and the lack of justice and truth are not good enough reasons to march and protest.
That it is not okay to use the marches as an excuse for "vandalism," that what the protesters did is not okay,
But it is okay to assassinate the protesters?
That nobody gave the order. That the police go out murdering people because one day they woke up wanting to kill, and all of a sudden they murdered or raped the first person they bumped into on the street
..Seriously?
The institution or the military structure is not designed to assassinate; there are only bad apples that blemish our great military institution's image. How dare it occur to Colombians to demand a structural review of the police, that this is not possible, #WeAreAllPolice.
An institution without review policies is ridiculous.
There will be prosecutions, and there have already been dismissals, there are investigations, so we should all calm down. Everything is okay. We must trust our dictatorial institutions made up of friends from the backyard of our president.
They give us so much confidence.
The protesters were not killed. We should not use language that does not move us to reconciliation.
Right, the police didn't kill them. No, the protesters ran towards the bullets so that the bullets would kill them and thus damage the image of our heroes.
No more, please, no more! I can't breathe!
We are not legitimizing the use of violence as a form of protest, but neither do we join the oppressive voices that seek, under the excuse of criticizing violence, to silence the tired and indignant voices of the Colombian people.
Let it be clear that when a student shouts, they shout because of the lack of investment in public universities and the lack of guarantees for access to education.
Let it be clear that when a small farmer shouts, they shout because of the displacement suffered from their territories, territories that today belong to large landowners.
Let it be clear that when a woman shouts, she shouts because of the increase in violence against women and femicides that are made invisible by a patriarchal and chauvinist system that refuses to change.
Let it be clear that when a labourer shouts, they shout because of the instability of labour rights, the lack of employment, and massive layoffs.
Let it be clear that when a teacher shouts, they shout about the lack of infrastructure in schools, the lack of job and health guarantees, and the murder of teachers in different regions of the country.
Let it be clear that when a human rights defender shouts, they shout because of the assassinations, the threats, and the lack of guarantees that defenders of life experience today.
Let it be clear that when an environment defender shouts, they shout about the economic model that the government wants to impose at the expense of nature, which is the real guarantor of our existence.
Let it be clear that when an indigenous person shouts, they shout against a racist system that assassinates them, makes them invisible, and erects altars in honour of the colonizers on their sacred territories.
Let it be clear that when the Colombian people march, it is because there are plenty of reasons to march. We, Christian Peacemaker Teams, support social protest, legitimate protest that shouts at the doors of the powerful.
NO MORE! PLEASE NO MORE! WE CAN'T BREATHE!
* Presidential Palace