We would like to introduce you to Allegra Friesen Epp, as part of our #GrowingCommunity series. Allegra trained with CPT in Amman, Jordan in June this year and interned from February 2021 to July 2022.
How did you hear about CPT?
Allegra Friesen Epp: I heard about CPT through my family and church community when I was a kid.  Ever since, I've been intrigued by the organization's commitment to active nonviolence and on-the-ground accompaniment work.  
Why did you choose to intern for CPT?
AFE: I had been working in the Indigenous-Settler Relations office at Mennonite Church Canada (MC Canada) and saw an opportunity to collaborate with CPT's Turtle Island Solidarity Network (TISN).  Both organizations had things to teach each other about how to do Indigenous solidarity work well.  Mennonite Church Canada is also one of CPT's sponsoring bodies, so a relationship between the two already existed.  Being an intern with TISN and Mennonite Church Canada allowed me to bridge some of the work of these organizations and mobilize more people to take part in solidarity actions.
What kind of work were you a part of?
AFE: I helped to create worship resources and educational materials for MC Canada and CPT constituents.  This included webinars and book studies, as well as faith action toolkits geared specifically towards supporting #LandBack movements across Turtle Island.  Along with some colleagues, I started a provincial working group of Mennonites in Manitoba that seeks to nudge our faith community to bolder action in solidarity with Indigenous-led movements.  The richest experience of my internship was taking part in a joint MC Canada-CPT delegation to the Wet'suwet'en nation (in northern British Columbia).  We were a team of five – some CPTers, some Mennonite church-goers – who responded to the Wet'suwet'en people's call for on-the-ground support.  I learned so much about Indigenous sovereignty, settler responsibility, and the devastating impacts of resource extraction projects like the Coastal GasLink pipeline.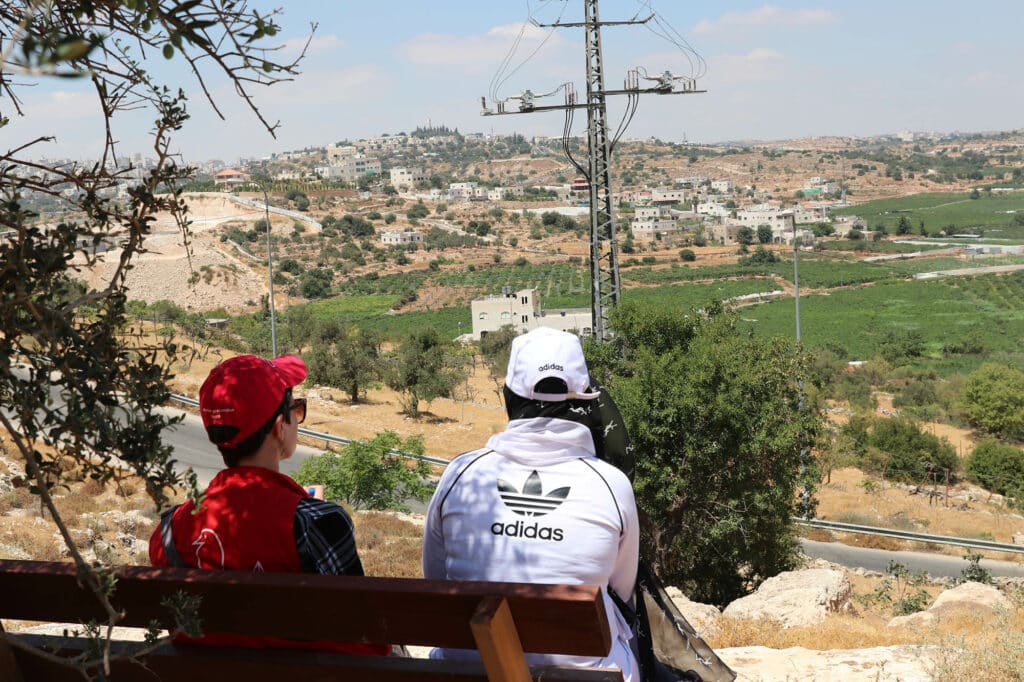 What motivated you to do the training?
AFE: I wanted to become better equipped to address the oppressions and systems of violence that I was increasingly becoming aware of in my work.  I wanted to explore questions of nonviolent strategy, peace ideology, and effective social change alongside other people who had also been working in the field.  Several friends and CPT colleagues encouraged me to do CPT training, and I'm grateful to them.  It was an opportunity to stretch myself, learn new skills, and meet amazing people.
You recently came back from spending time on the Palestine team, how did you find it? What are your takeaways?
AFE: This summer I spent three months on the Palestine team, working in Hebron/Al Khalil.  It was fascinating to take part in peacemaking in a setting very different from my own.   While I brought the skills I had learned at training, I had so much to learn from my colleagues and local community members about cultural customs, historical context, and protective presence.  The experience reaffirmed for me that I love working on the ground and building partnerships with people who are resisting the occupation in their everyday lives.  But it is difficult to hear their stories and witness their pain.  I carry with me the resilience, strength, and determination of the Palestinians I met.  I cherish the friendships I made with colleagues.  I've learned to appreciate the support network that CPT is, and not to underestimate the ways we need each other in order to sustain this work. 
Working in Palestine also opened my eyes to the similarities and parallels between settler colonial states like Israel and Canada.  I have been challenged to think more critically about what it means to be a settler on Turtle Island.  I am becoming more aware of the ways Indigenous peoples are surveilled, restricted, policed, and criminalized, and the way the Canadian state uses its own military to secure illegal occupation of land and resources.  I hope that by recognizing these parallels, I will be more equipped to work for liberation, both at home and in Palestine.   
What's next for you with CPT?
AFE: I'm excited to be a member of the CPT community and I look forward to more volunteer opportunities with the organization.  I'm glad to be part of the Turtle Island Solidarity Network that supports several Indigenous-led initiatives and #LandBack movements throughout the continent.  Perhaps I can make another visit to Wet'suwet'en sometime soon and reconnect with the land defenders there.  I would love to work on the Palestine team again (or any of the CPT teams, really!).  I have deep respect for CPT's work and feel honoured to be part of this organization.
Support CPT's Giving Tuesday #GrowingCommunity campaign