As a child, one of my biggest questions was where the water from the stream that passed through my neighborhood went. I would ask my uncles, who always answered, "it reaches the sea." I was distraught because I wanted to know where the corpses I watched float by would end up. The first time I saw one, it was a man, ready to go to work because he still had his backpack on. I remember it was terrifying, and I dreamed of this corpse lying in the ravine in my neighborhood for several days. For a while, I stopped looking at it.
After a few months, I started going to the ravine every day to see if there was a death because the violence in my neighborhood had worsened. In the 1990s, the 'El Bosque' neighborhood in Medellín became a stronghold for the 'MP': Popular Militias. I was around five years old, but I remember clearly the violence we suffered due to territorial disputes between armed groups.
One day I learned that the Medellín River flowed into the Magdalena River and I never imagined that my question about the dead bodies I saw every day would eventually lead me to The Grand River of the Magdalena, as the inhabitants of the Middle Magdalena region call it. It is a river that has witnessed the violence in Colombia; it has carried on its current the missing, mutilated, and murdered. It has been stained with blood from the war but is also a symbol of resistance, memory, and mourning.
I never thought that what I lived through in my neighborhood would be linked to the region where I am living today, in the Middle Magdalena region on the banks of the Magdalena River. I grew up in Medellín, known as the "little silver platter," but it is more like lead: caught in our own tragic history of having once been the most dangerous city in the world.
I didn't want this as part of my life, to see dead people in the streets every day or to suffer the loss of a loved one who was left lying dead on a corner. I didn't want to feel the pain of watching this war continue. So at 16, I began to think about noncompliance with obligatory military service. I didn't care that it was an obligation, a legal duty, or the legitimate army of the state.
After investigating and educating myself, my stance had a name: Conscientious Objection. It was the strangest term in the world, but this conviction would save me from being kidnapped in an army truck and sent to a municipality in the Middle Magdalena region (mainly to the Puerto Berrio battalion), as the fourth brigade was doing at the time in Medellín, taking young people from the neighborhoods and forcing them into military service. I declared myself a conscientious objector at the age of 17, and with the support of my family, friends, and objection group, I decided to disobey the mandate of war. I started the journey that would bring me to CPT Colombia.
I met the Popular Women's Organization (OFP for its acronym in Spanish) in 2003, as they arrived in Medellín. They were leading a caravan of more than 30 buses with women from the Ruta Pacífica (Peaceful Way), where we continued on to Bogotá for my first march. I was so excited! They held a symbol with a weapon crossed out, and we marched to the Plaza de Bolívar. There I knew this was bigger than I imagined: an admirable, non-violent resistance struggle in Colombia that has been going on for many decades and resists oblivion. I never thought I would be a part of it, but there I was.
And here I am now, a part of the CPT team. Questioning oppression, patriarchy, war, and militarism has brought me here. How do we respond in the midst of a context that proposes war? Well, we are here, a people committed to the values ​​of life and to defend the fundamental principle of wanting to live in a country at peace.
I met CPT in 2019 and was very happy when I was selected. I knew I would be part of a great community that unites around the principles and actions of creative nonviolence. I wish I could share with you the many impressions I have had of the region, but for now, I will tell you it is a place where its inhabitants have built a culture of peace and resistance worthy of admiration. The communities that we accompany daily show us their ways of resisting war.
In September, I was shocked when I almost witnessed a murder returning home to the CPT house. I heard the shots. I was paralyzed for a moment, but I immediately went to take shelter. When I arrived at the corner of our street, there was a crowd surrounding the corpse. I did not want to see. When I was 17, I decided not to see more deaths or bodies left by violence. But I saw myself there, from behind, a child looking at a corpse and wondering where that body would end up.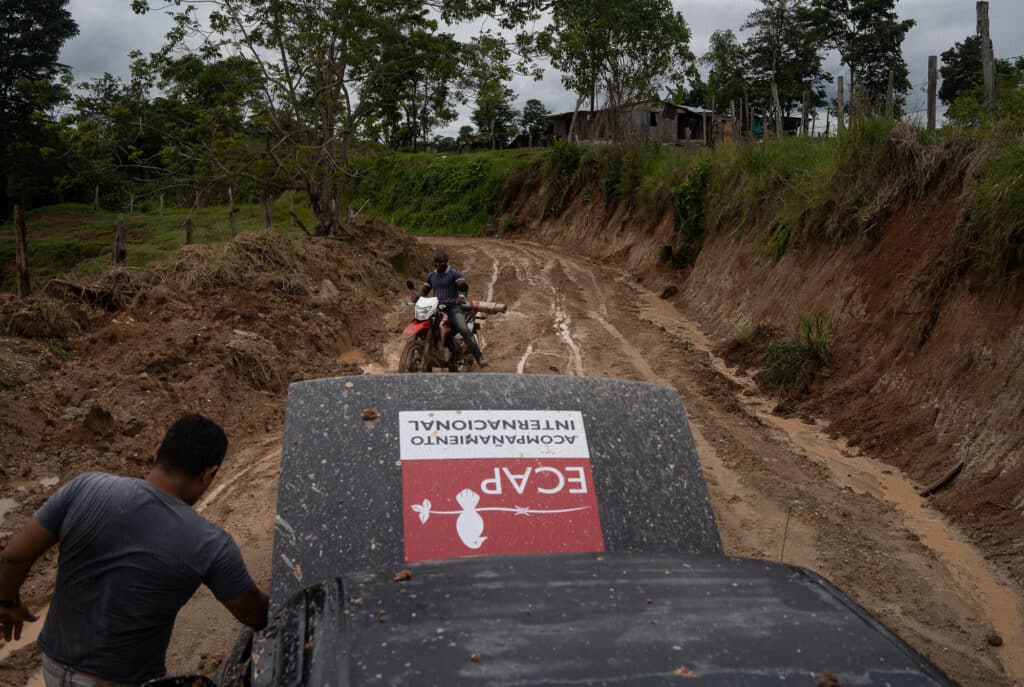 I did not think I would find such a sharpened context of violence this year in Barrancabermeja, but confrontations between armed groups over territorial disputes have increased. The Magdalena River continues to be a highway for drug trafficking, and many riverside communities continue to suffer the harshness of the war.
The communities continue to search for total peace. Just as the Middle Magdalena was a national pioneer in peacebuilding with the Peace Laboratory of the Middle Magdalena (a program of communities that rejected the armed conflict during the early 2000s) among many other expressions of resistance, it continues to be a significant place that will speak to the country as an example of dialogue and proposals that dignify life.
I am where I want to be, and thanks to CPT, I have been able to know and learn more. The child who refused military service feels happy today to be on the path he chose. It can be very painful, sad and sometimes frustrating, but it is a place where I can take action, show solidarity and accompany those who want to continue walking in the hope of a Magdalena Medio that resists oblivion.