CPTnet
30 June 2012
COLOMBIA: Prayers invited following government visits to communities
by
Pierre Shantz
A team
of Colombian government agricultural engineers, surveyors and lawyers visited
the communities of Garzal and Nueva Esperanza from 16-26 May.  Their
mission was, among other things, to verify that the farming families of these
two communities indeed live on and farm the land.  CPT has accompanied
Garzal and Nueva Esperanza since 2007. The Barreto family, which is under
investigation for paramilitary ties, says all of the land is part of a large
estate they own. The communities are fighting the Barretos in court, claiming
their title is fraudulent.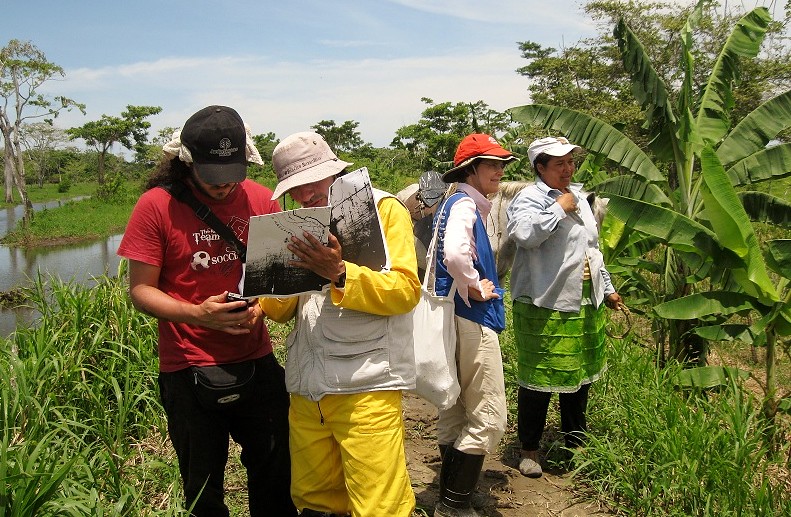 Colombian titling agency visits Garzal.
The
government team, from Colombia's National Institute for Rural Development
(Spanish acronym INCODER), was also there to document the existence of protected
wetlands and lakes on land to which the Barreto family claims title, for
processing and mandatory return to state custody. The inclusion of protected
lands within privately titled property points toward the title's invalidity.
Since the mid-1980s, the Barreto family and paramilitary groups,
including the now-demobilized Colombian United Self Defense Forces' Central
Bolivar Block, have made numerous threats against the communities. Pastor
Salvador Alcántara, the main leader of the community process, is at particular
risk.
During the visit, the INCODER team uncovered illegal mining
operations and entered territory used by drug trafficking groups. Rumors began
circulating after the visit that those who benefit from the illegal activity will
retaliate against the farmers of Garzal and Nueva Esperanza for bringing it to
the government's attention.
A similar government visit took place in the community of Las
Pavas four weeks later. If the outcome favors the community and invalidates the
palm oil conglomerate's claim to the land, threat levels to Las Pavas and its
leaders could be expected to increase.
CPT Colombia asks for continued prayers for the families of
Garzal, Nueva Esperanza and Las Pavas. May God grant justice to the meek and
poor. May they indeed inherit the land they have farmed for generations.

NOTE:
The 25 June reflection, COLOMBIA: Against
all odds, mentioned coercion from
multinationals in Garzal, which has not yet happened. Shell has explored for
oil in the region. Also, the statement that 99% of Colombian territory has been
given in concessions to multinationals was a misunderstanding. CPT Colombia
apologizes for the errors.