CPTnet
22 January 2014
PALESTINE REFLECTION: Why they should stay
by C.D. Fox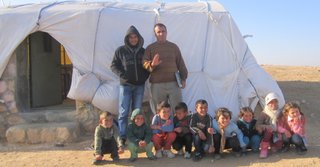 The complete teaching staff and student body of
Khirbet al-Majaz school
In 1999, the Israeli military administration
forcibly expelled 900 people and destroyed their homes within an area it calls
Firing Zone 918.  Only after residents petitioned the Israeli High Court
did it grant a temporary injunction in 2000, allowing them to return.
Life for Palestinian communities in the area has
worsened because of Israeli settlement expansions.  The Israel military
administration continues to demolish new houses and buildings or deliver stop
work and demolition orders to those in the process of construction. 
Israeli settler violence has already caused the abandonment of two villages,
Al-Kharoubeh and Khirbet Sarura.  Another two communities—Tuba and
Jinba—continue to suffer Israeli settler attacks, which the Israeli military
almost never prevents.  And in 2012, the Israeli military re-started their
military manoeuvres in the area.
Several weeks ago, I walked with teammate Bob for
five hours through the firing zone.  We drank tea and listened to a school
headmaster, some parents, a farmer and a couple of shepherds.  Since then,
my teammate Maurice and I accompanied eight teachers into the firing zone,
played with the school children during breaks and heard the Israeli military
practising a couple of kilometres away.  The week after that, my teammate
Kathy and I accompanied two teachers to the two-room tent-covered schoolhouse at
Khirbet al-Majaz, because soldiers were stopping people on the road.
You may ask, "Why don't the villagers just move?"
Well apart from it being their land, other important reasons to help the
villagers remain on their land include:
Their removal will
turn the area into Israeli state land, and probably result in its sale to the
Israeli settler movement.
The planned
eviction and demolition of eight villages by Israel would be unlawful under
International Humanitarian Law and the Geneva Convention
Firing Zone 918 violates
fundamental human rights:
a)     the right of a
dignified life;
b)    freedom of
movement;
c)     right to private
property;
d)    right to education;
e)     right to work;
f)     right to medical
care;
g)    freedom of worship.
The communities are committed to non-violently resisting
this theft of their land e.g., by building three schools, a medical centre and
places of worship.
We all know that loving our enemies and our
neighbours is challenging, but the people of Masafer Yatta also realise that a
violent struggle will not help them, and they need to work with all their
neighbours. As one villager told me recently, Isa al Masih (Jesus the Messiah)
is a role model and prophet for Muslims.  I am glad that—combined with our
Jewish partners such as Rabbis for Human Rights, B'tselem, Yesh Din, ACRI and
Taayush—CPT is also part of this inter-faith resistance.
Action: Sign and share this petition: https://nofiringzone918.org/petition/