CPTnet
21 February 2014
AL-KHALIL (HEBRON): Stop and frisk in the Old City; spring planting in Wadi
al-Hussein
Stop and Frisk:
 Israeli soldiers and police stop and search cars in Palestinian Old City
neighborhood
Saturday 15 February Old City, Al Khalil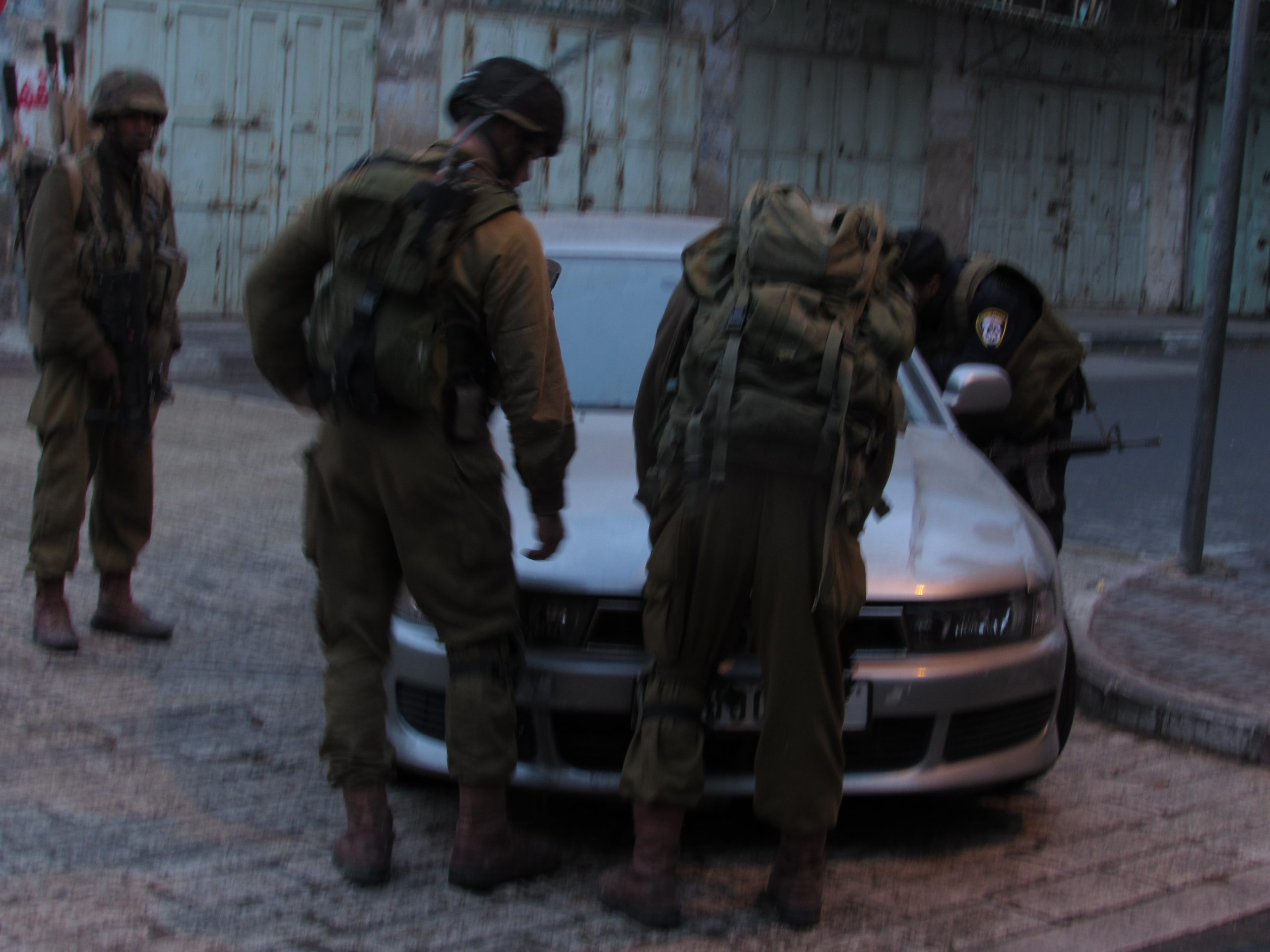 Israeli soldiers entered a residential Palestinian neighborhood in the Old City
of Hebron, established a flying checkpoint, and began randomly stopping
Palestinian drivers.  The soldiers slowed traffic on the narrow streets of
the neighborhood, searched cars, trunks, engines and checked the IDs of drivers
and passengers.
Since the early l990s, Israel has restricted the movement of Palestinians in
the Occupied Territories.  Methods
of restriction include permanent and "flying" checkpoints, turnstiles,
restricted roads, and road closures. 
Under Article 13 of the Universal Declaration of Human Rights, and in Article
12 of the International Covenant on Civil and Political Rights Israel, as an
occupying power, is required to respect civilians' freedom of movement.
The loss of freedom of movement also results in the loss of other
internationally recognized human rights, specified in the International
Covenant on Economic, Social, and Cultural Rights.  These include the
right to work, the right to health, the right to education and the right
to protection of family life.
Palestinians and
Internationals gather to help plant olive saplings to replace trees damaged by
the winter storm in Wadi al Hussein
Sunday 16 February Wadi al-Hussein, al-Khalil (Hebron)
Friends and internationals gathered on 16 February to plant olive
saplings in a Palestinian orchard in Wadi al Hussein, on the outskirts of al-Khalil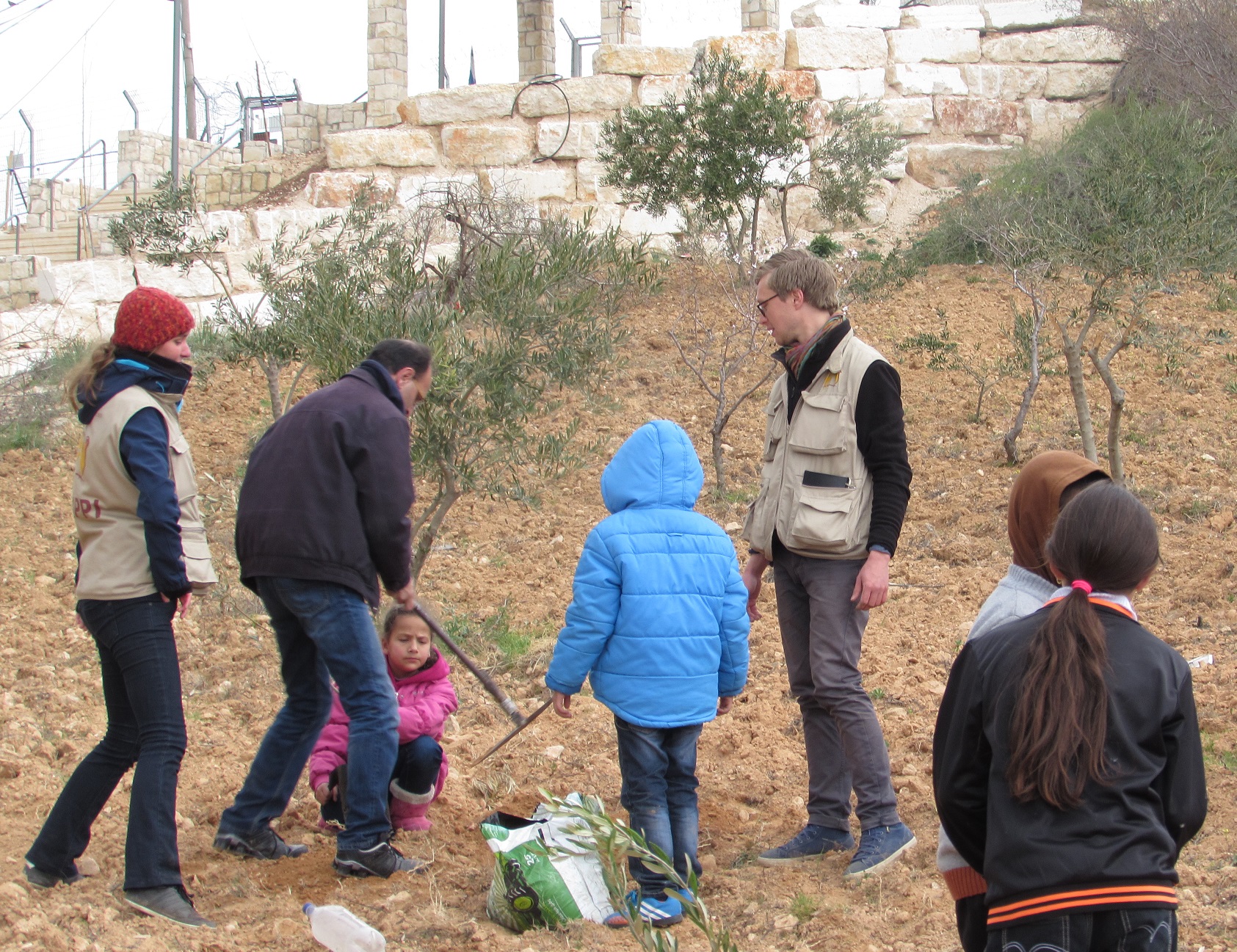 (Hebron). The twenty-five one-year-old trees replaced mature trees
damaged by last month's winter storm in al Khalil.  The orchard belongs to
a Palestinian family whose land is now surrounded on three sides by the settlement
of Kiryat Arba, and who face daily the threat of settler violence and the
potential loss of land due to settlement expansion.
Wadi al Hussein is a valley cultivated and owned by Palestinians
squeezed between the settlements of Kiryat Arba and Givat Ha'avot.  Recent
settlement expansion includes the construction of a new road from Kiryat Arba
and the attempted takeover of the Al Rajabi building at the southern
entrance of the Kiryat Arba settlement.  In 2007, a group of 200 settlers
invaded the building and occupied it, claiming to have purchased it.
In 2008, the Israeli Supreme Court acknowledged that the
settlers' ownership deed to the house was forged and ordered them to vacate the
building pending a final decision.  The settlers responded with violence,
injuring twenty-five Palestinians, damaging seven cars, and vandalizing three
homes in Wadi al Hussein.  The court has not yet announced a final
decision.
Both the new road and the takeover of the Al Rajabi building
are part of an effort by settlers to link the five settlements in Al Khalil
with Kiryat Arba, making life intolerable for Palestinian homeowners whose land
and homes would be cut off from the rest of the city.
[Note: According to the Fourth Geneva Convention, the Hague
Regulations, the International Court of Justice, and several United Nations
resolutions, all Israeli settlements and outposts in the Occupied Palestinian
Territories are illegal.]