CPTnet
26 February 2014
AL-KHALIL (HEBRON):  Hebronites
mark twentieth anniversary of Ibrahimi Mosque massacre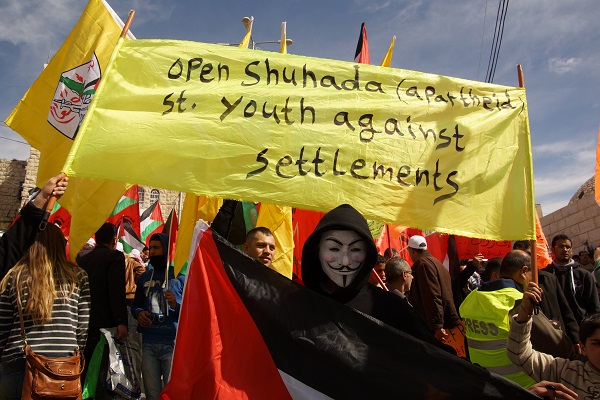 Hebron Defense
Committee and Youth Against Settlements commemorated the Massacre with a march in the Old City
neighborhood of Hebron
 During the month of February,
Palestinians in Hebron commemorated the twentieth anniversary of two tragic
events that continue to haunt lives and curtail freedoms in the city:  the
closing of Shuhada Street, the massacre of twenty-nine Palestinians in the
Ibrahimi Mosque, and dozens more killed by Israeli soldiers the week after the
massacre.
Early on the morning of 25 February,
during the month of Ramadan 1994, U.S.-born Israeli physician Baruch Goldstein walked
into the Ibrahimi mosque in Hebron armed with a rifle. Hundreds were inside the
mosque in prayer at the time.  Goldstein opened fire on the kneeling men
and boys at prayer, reloading at least once.  By the time worshipers
stopped him,  twenty-nine had been
killed and more than 100 injured.
Since the Goldstein Massacre, Israeli
Occupation forces in Hebron have systematically restricted Palestinian movement
in the city.  Shortly after the massacre, the Israeli Civil Administration
banned Palestinian vehicles from Shuhada Street, a once-vibrant residential and
commercial street that served as a hub and gathering place for the Old City of
Hebron. During the second Intifada in 2000, Israel completely closed off
Shuhada Street to Palestinians. Owners of shops and homes on the street could
no longer use their doors, and the military closed more than 300 shops and
warehouses. Families living in homes that did not have alternative access, such
as over a roof or through another building, had to abandon them. Meanwhile
settlements in Hebron continue to expand.  Currently settlers are in the
process of trying to take an additional five buildings near the Ibrahimi Mosque
and Hebron residents fear their goal is to cut off the Mosque completely to
Palestinians.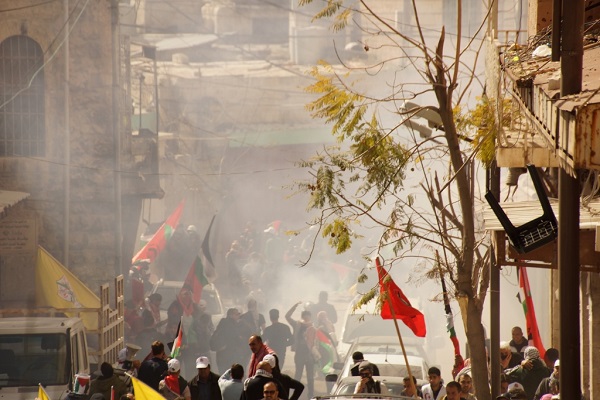 Israeli soldiers,
Border Police, and civilian police used
teargas and stun grenades during Open Shuhada Street
march 21 February in Hebron.
This year, residents of Hebron's Old
City commemorated the anniversary with two events.  On Friday 21 February
2014, The Hebron Defense Committee and Youth Against Settlements staged a
march from Sheikh Ali al-Bakaa mosque towards the eastern entrance of
Shuhada Street, but Israeli forces began firing stun grenades and tear gas
canisters at demonstrators as they reached Bab al-Baladiya area.  During
clashes throughout the remainder of the day, thirteen were injured, including a
reporter from the Israeli human rights organization B'tselem hit in the head
with a rubber bullet. Israeli forces detained or arrested at least five protesters
over the course of the clashes.
On 25 February, three members of the
Knesset and leaders of the Peace Now and Meretz parties attempted to visit one
of the few Palestinian families still living on Shuhada street, near Qurtuba
School.  Soldiers at a checkpoint
near the school prevented the group from visiting the house, and Israeli settlers
heckled and harassed them throughout their short visit.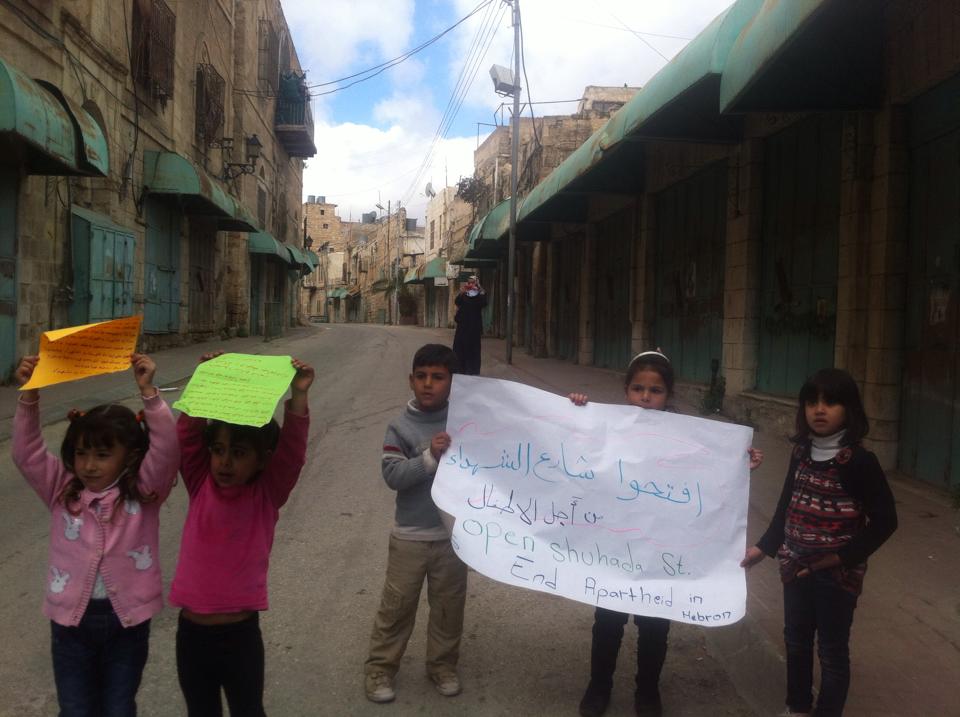 Children welcome Knesset members and leaders of Meretz and Peace Now to Shuhada Street 25 February 2014