CPTnet
4 March 2014
AL-KHALIL (HEBRON): February ends with arrests of children in the Old City
On the evening of 28 February 2014, soldiers arrested eight
Palestinians on Shalala Street—six of them appeared to be under sixteen, and
two were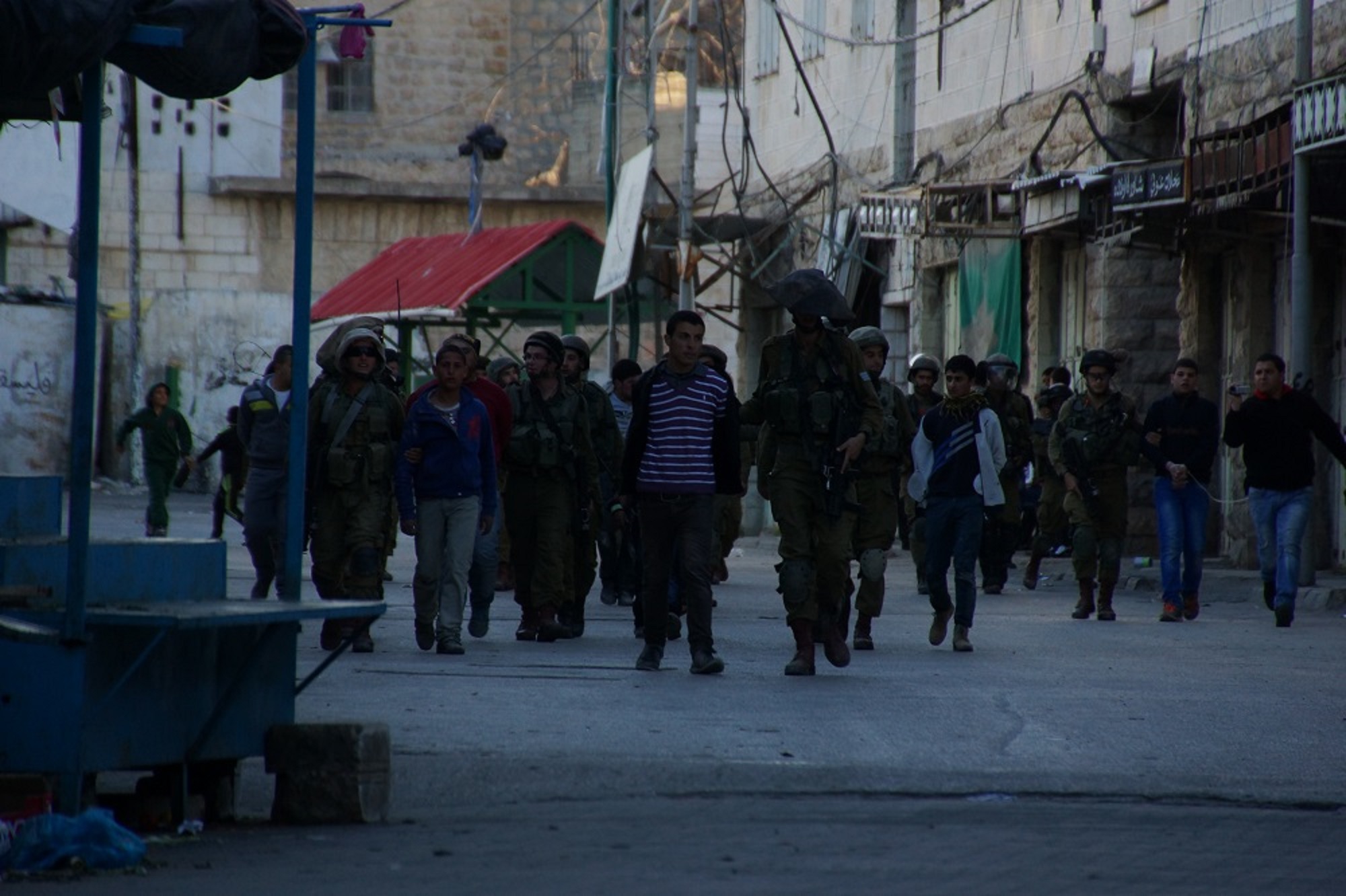 clearly younger than twelve.  Soldiers took the boys into the military base at Bab el Baladiya
at the entrance to the Old City and after approximately an hour, the soldiers took
all them away in military jeeps.
The arrests bring the total of child arrests and detentions
documented by internationals working in Hebron during the month of February to
eighteen. This number by no means reflects the total number of arrests and detentions
of Palestinian children by Israeli forces in the city.
Some of the detentions witnessed have been relatively brief,
including incidents where soldiers took children from residential streets or
the market, walked them some distance, compared them to photographs or
interrogated them in the street, then released them. Sometimes soldiers take
children into military bases or to military police stations and question them
there. Sometimes they arrest them in their homes and sometimes they hold them
overnight
Palestinian children in Hebron are routine victims of racial
profiling by Israeli soldiers who are looking for children who may have thrown
stones on another day. Often the children are innocent, but once in custody
feel are pressured by soldiers to identify other children or adults from photos. Palestinian children
arrested by Israeli military authorities have no access to their parents or to
legal representation. They are often transported in military vehicles,
sometimes with adult detainees, to military bases and police stations.
According to UNICEF, (Children in Israeli Military Detention;
Observations and Recommendations, February 2013) approximately
700 Palestinian children aged 12 to 17 are arrested, interrogated and detained
by the Israeli army, police and security agents each year in the OPT. In the
past ten years, approximately 7000 children have been detained, interrogated,
prosecuted, and/or imprisoned within the Israeli military justice system. This
number represents an average of two children each day.
Many aspects of the child detentions and arrests documented in
Hebron during the month of February  are clear violations of international
law.  For example,
Parents or legal guardians should be informed of the arrest of
children within the shortest possible time thereafter, in a language
understood by the child and the parents or legal guardians. (The International
Covenant on Civil and Political Rights (ICCPR), article 9 (1) and (2); Beijing
Rules, Rule 10.1).
All children should be free from compulsory self-incrimination,
which includes the right to silence. 'Compulsory' should be interpreted
broadly and not limited to physical force. The age of the child and the length
of the interrogation, the child's lack of understanding and the fear of
unknown consequences may all lead a child to give a confession that is not
true. (Convention on the Rights of the Child (CRC) article 40(2)(b) (iv);
CRC General Comment No. 10, paragraphs 56-58; Convention against Torture,
article 15; ICCPR, article 14(3)(g) and (4); Geneva IV, article 31).
There must be independent scrutiny of the methods of
interrogation of children. This should include the presence of a lawyer and
relative or legal guardian and audio-visual recording of all interrogations
involving children (CRC, art 40(2)(b0(ii) and (iv); CRC General Comment no. 10,
para 58; ICCPT, art. 14(3)(b); HRC General Comment no. 20, para 11; HRC
Concluding Observations, Israel (29 July 2010), ICCPR/C/ISR/CO/3, para 22;
Convention against Torture, art. 2; UN Committee against Torture, General
Comment No. 2, para 14, and Concluding Observations, Israel (14 May 2009),
CAT/C/ISR/CO/4, paras 15, 16, 27 and 28).
Children should not be held
with an adult population while in custody. Under the Convention on the Rights
of the Child, parties should establish separate facilities for children
deprived of their liberty, including distinct, child-centered staff, personnel,
policies, and practices. (CRC, CRC/C/69 (1997) 21 at para. 137.)
| | |
| --- | --- |
| |   |
|   |   |