CPTnet
17 March 2014
AL-KHALIL (HEBRON): CPT introduces H-2 schoolchildren to the red hats
CPT has been visiting classrooms at schools within the H-2 area of Hebron in
March, and introducing them to the work of CPT.   H-2 is the area
of Hebron under full Israeli military control, and many of the children must
walk through checkpoints to reach their schools.  They have also, in recent months had to face sound bombs and
teargas during clashes at the checkpoints just before and after school
 CPTers
let the children know why the people with red hats are at the checkpoints near
their schools each morning, what they stand for, that they are there to help and
that the children can trust CPTers will do their best to make sure the children
will stay safe.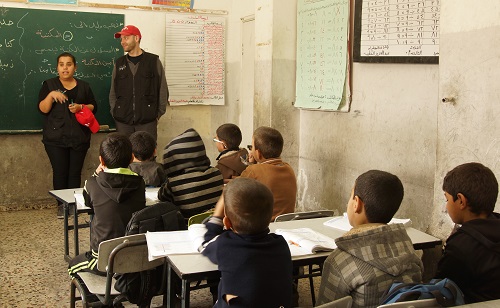 In
other news regarding children living in H-2, on 12 March, CPT brought together different
organizations to discuss important issues and coordinate the proper responses
to the detentions and arrests of children by Israeli Forces in the Old City of
Hebron.  Over forty people
representing international organizations, the Palestinian Authority, and
humanitarian relief agencies collaborated and decided on measures and
guidelines for response to the illegal, and seriously detrimental detentions
and arrests of children living under Israeli military occupation.