CPTnet
3 November 2014
AL-KHALIL (HEBRON): Israeli military arrests two boys, eleven and thirteen, in Hebron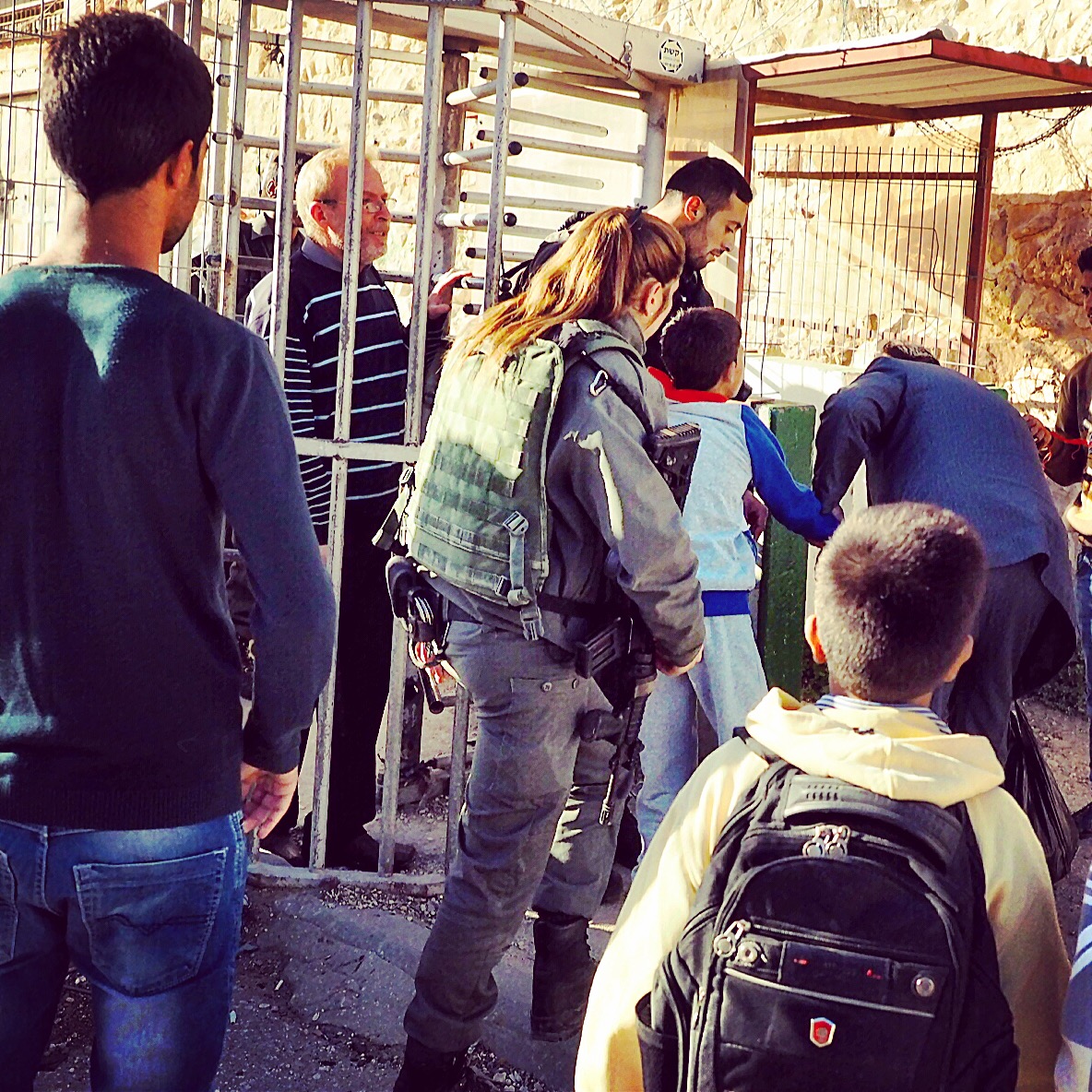 On Sunday, 26 October at approximately 7:45 a.m.,
Israeli border police detained and arrested an eleven-year-old Palestinian
boy in the Qitoun area of H2 (under full Israeli military control) during the
morning school patrol. 
The Israeli soldier grabbed the young boy by wrapping his hand
in the collar of his shirt and twisting his clothing tightly around the
neck, despite the fact that the young Palestinian showed no signs
of resisting.
After several minutes of Palestinian adults pleading with
the soldier to release his grip, the soldier finally responded and
escorted him to the police station next to the Ibrahimi Mosque without
notifying his parents.
The boy remained at the police station for over an hour
and a half, after which the soldier informed one of the schoolteachers that
police would hand him over to the Palestinian Authority at Check Point 56
at Bab iZaweyya, in the H1 section of Hebron.  Once the child was in the military jeep by himself, instead
of taking him to Checkpoint 56, the Israeli soldiers transported him to
the other side of Hebron to the police station at the Israeli settlement* of
Kiryat Arba. 
On the morning of 29 October 2014, Israeli forces made an
incursion into the Motanabi School in Hebron, near Kiryat Arba. 
The Israeli military detained two young Palestinians and
arrested one—Bara Araf Jebal, thirteen years old, for allegedly throwing rocks
from the school playground at an iron shelled military outpost some 400 yards
from the school.
 
Jebal's grandmother advocates
for his release
 
During the arrest, the Israeli military transported Bara
Araf Jebal in the armored vehicle without notifying his parents, and then
dropped him off one km from his school.  According to reports, soldiers physically abused and coerced
him while he was in their custody.
The Motanabi School has been a recent area of unrest, specifically during the
times of day when the school starts and ends. 
"We have phone calls now when these incidents occur of
parents calling us and telling us their children will not be going to school
today," said Hisham Qawasmeh, the principal of the school.  "Last year it wasn't as bad, but now we
have soldiers here all the time.  They
say they saw kids throwing stones, but our kids can't throw stones from here to
where they are at; it's too far." 
See CPT's report on child arrests and detentions: Occupied
Childhoods.

*Note: According to the Fourth Geneva
Convention, the Hague Regulations, the International Court of Justice, and
several United Nations resolutions, all Israeli settlements and outposts in the
Occupied Palestinian Territories are illegal.