CPTnet
21 November 2014
AL-KHALIL (HEBRON):  Israeli
military and settlers close down Old City of Hebron to Palestinians
[Note: This release has been adapted for CPTnet.  The original is available on the
Palestine team's blog.]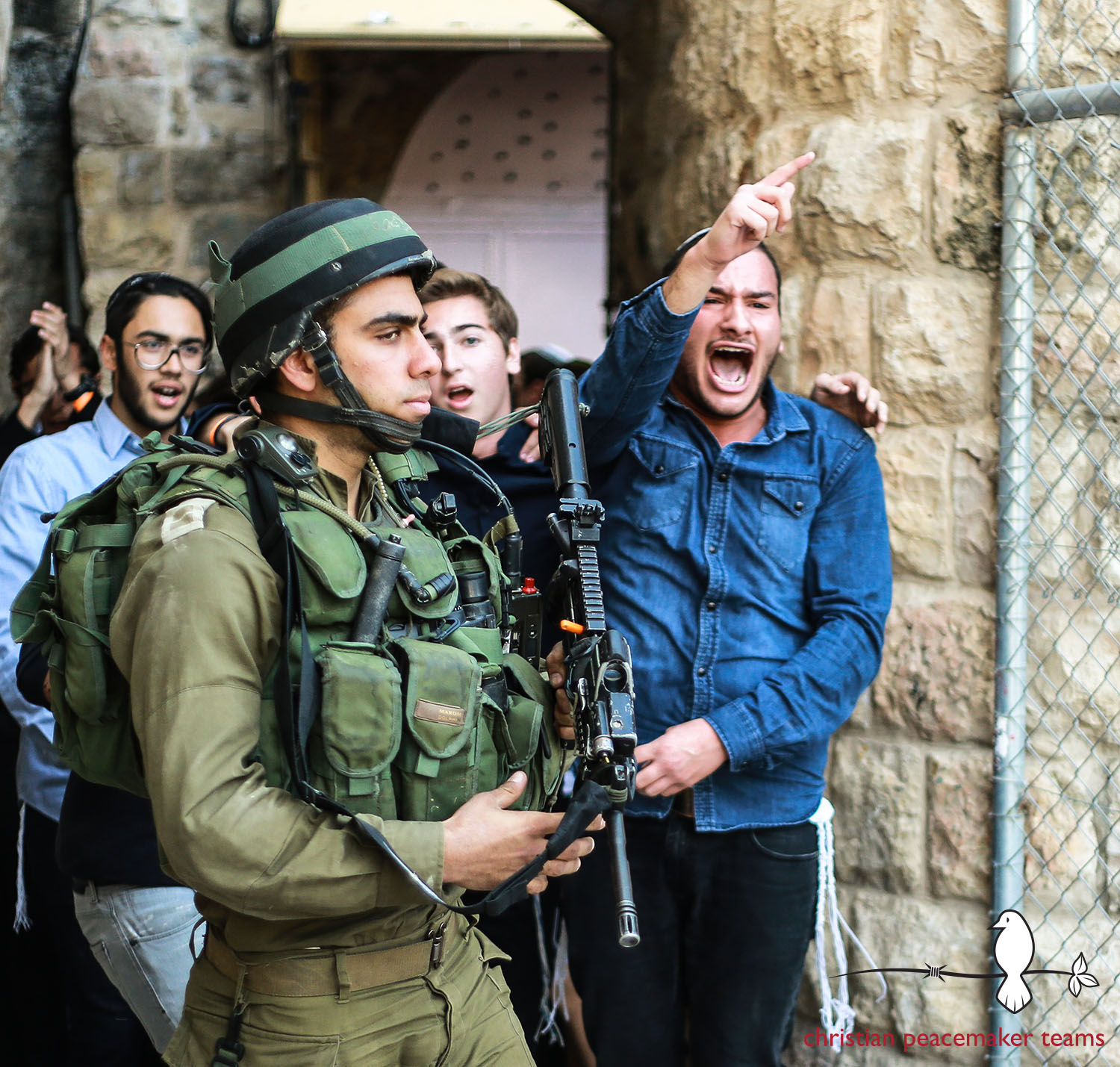 An Israeli settler screams at young Palestinians in the court yard of
the Old City of Hebron.
Every Saturday a group of Israeli settlers and Jewish
tourists, escorted by dozens of Israeli soldiers, parade through the Old City
on a tour, in which they hear an exclusive rightwing Jewish narrative of the
city's history.  Last Saturday,
however, was a holiday commemorating Abraham's purchase of land in Hebron to
bury his wife Sarah, so an unusually large number of Israeli settlers, Jewish
tourists (many from New York), and Israeli border police and soldiers were
present.  For nearly three hours,
hundreds of Israeli settlers and occupying forces overtook the Old City,
restricting Palestinians' freedom of movement and causing shops to close early. 
While a normal Saturday tour means restriction of
Palestinian movement and disruption of the lives of those living and working in
the Old City, last Saturday's holiday tour created greater disruptions.  The Ibrahimi Mosque was closed, which
meant that not only could Muslims not pray there, but that the checkpoint
leading to it was closed.  When the
checkpoint is closed, Palestinians have to take much more circuitous (and
hilly) routes from one side of the mosque to the other, adding time and
difficulty to daily tasks.
The settlers and tourists, many of whom were young men,
danced, jumped, and chanted Israeli nationalistic slogans as they slowly made
their way through the Old City, blocking passage for residents and creating
noise that interfered with any sense of normalcy.
As CPTers and representatives from other NGOs stood along
the route, settlers and tourists questioned them, sometimes aggressively, about
their presence and work and accused them of anti-semitism.  One tourist threatened to hit a CPTer;
another asked a CPTer to take a picture and then threatened to break the camera
(which he'd already tried to handle as he passed by).  A number of tourists said to observers,
"Welcome to Israel," though no country in the world recognizes the
Palestinian Occupied Territories as part of the nation of Israel.
In a more open area, Palestinian boys were playfully holding
out their hands to shake tourists' hands or give them a "high five," with
reactions ranging from enthusiastic handshakes and high fives to looks of
disgust.  One of the groups of
chanting tourists included in their shouts profanity directed at the
Palestinian boys.  When the boys
shouted back, border police and soldiers intervened, yelling at the Palestinian
boys and trying to move them back.  CPTers arrived, putting themselves between the soldiers and
the boys, at which point both groups backed away from each other.  The solders and border police then
turned their attention to calming down the still-shouting tourists.  One soldier remained with the boys,
talking and listening to them.
The holiday that brought so many settlers and tourists to
Hebron commemorated what Jews identify as the purchase of the first Jewish land
by Abraham.  Often, and certainly
on the Hebrew/English signage near the Tomb of the Patriarchs, the implication
is that the area is sacred to and meant for Jews only.  However, Judaism, Christianity, and
Islam are all Abrahamic faiths, and therefore the area is significant for all
three religions.
Every Saturday the team in Hebron monitors the settler tour
that harasses Hebron's Old City residents. 
The team has said it needs more stipended volunteers to expand its nonviolence-promoting work in the Hebron District.  Can you help?