CPTnet
15 June 2015
AL-KHALIL (HEBRON): A week in photos 31 May-6 June 2015
A LONGER WALK HOME
Pictured here: Going home from prayers sometimes takes longer than planned. This young man was pulled aside for an ID check on his way home from the mosque.
(05/06/2015)
DOGS AND MASKS
Pictured here: 
Heavily armed soldiers make way for the settlers participating in the weekly settler tour in the old city of Hebron.
(06/06/2015)
LEARNING ABOUT THE 
OCCUPATION
Pictured here: CPTers meet with a group of internationals to talk about life under occupation in Hebron's old city.  
(09/06/2015)
'IT IS NORMAL'
Pictured here: Israeli soldiers raid a Palestinian house close to the Ibrahimi Mosque (a.k.a. Sanctuary of the Patriarchs) in Hebron, as settlers walked down for Shabbat prayer protected by another group of soldiers. The resident of the house told CPTers that "it is normal" for them to do that. In Palestine under occupation, there's no such thing as privacy for the occupied in the eyes of the occupiers. 
(05/06/2015)
GOING ON THE ROOF LEADS TO TROUBLE
Pictured here: A family on Shuhada Street had their home invaded because the father fixed the satellite dish on their roof. A soldier from the checkpoint down the street noticed the man, and began yelling at him. Shortly after, this group of soldiers stopped the man on the street, and then went into his home and onto the roof. After a few minutes, they took him down to the checkpoint, where they held him while doing an ID check.
(06/06/2015)
TAKING OVER HEBRON'S
 OLD CITY
Pictured here: Every Saturday afternoon, residents of Hebron's old city are subjected to the settler tour. This increased militarisation on the streets of Hebron, and concurrent military harassment and intimidation, is sponsored by the US-based organisation the "Hebron Fund". Tell them what you think about this racially exclusive "tour" that intimidates the Palestinian residents of Hebron. Sign our petition here: 
https://bit.ly/StopTheHebronFund
.
(06/06/2015)
FRIENDLY FACES
Pictured here: A couple of local Palestinian boys make a new friend near the Ibrahimi Mosque. 
(09/06/2015)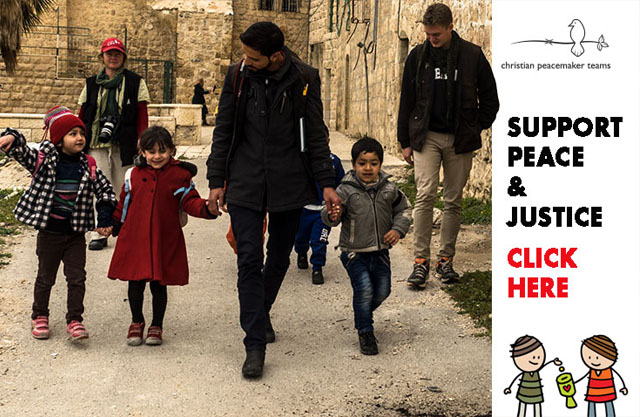 Our mailing address is:
cptheb@cpt.org

Consider a contribution to the Christian Peacemaker Teams to support peace and justice. Make a difference, click here bit.ly/CPT_Donate