CPTnet
June 26, 2015
AL-KHALIL (HEBRON): A week in photos, June 14-20, 2015
RAMADAN KAREEM
Pictured here: Ramadan has just started and the Old City of Hebron streets are filled with worshippers on their way to the Ibrahimiye mosque. The old market (souq) is vibrant and full of customers. This picture shows how the Old City was before Israeli Civil Administratio restrictions of the last couple decades and how it could be without the constant pressures of the Israeli Occupation that have led to its economic collapse. CPT Palestine wishes all a Blessed Ramadan. 
(20/06/2015)
UNEXPECTED MARCH
Pictured here: Waving Israeli flags, settlers march in large numbers up Shuhada Street, which has been completely shut off to Palestinians for almost fifteen years. 
(18/06/2015)
Pinwheels for Peace
Pictured here: The NGO Rebuilding Alliance led an activity for the children of Susiya—a village in the South Hebron Hills under imminent threat of demolition by Israeli authorities. The activity consisted of drawing the meaning of peace in a square piece of paper that was turned into a pinwheel, and pinned on a pencil.
(23/06/2015)
FIRST FRIDAY OF RAMADAN
Pictured here: More than 5,500 Muslim worshippers attended the Friday prayer at Ibrahimi Mosque in Hebron, according to CPT collected data. Of those, 3.054 were adult men, 667 adult women, 1569 boys and 278 girls. There was a heavy Israeli military and police presence, but international accompaniers observed no significant harassment towards worshippers.  
(19/06/2015)
THE QATAYF
Pictured here: Palestinians in the Old City of Hebron making qatayf, a special #Ramadan sweet, that's usually filled with nuts or cheese.
(20/06/2015)
RAMADAN LIGHTS
Pictured here: Modest Ramadan lights over Old Market street in Hebron, a place with little to no public lighting at night.
(20/06/2015)
CHILDREN OF SUSIYA
Pictured here: Palestinian children play at Susiya playground, which is under demolition order, like rest of the village.  
(15/06/2015)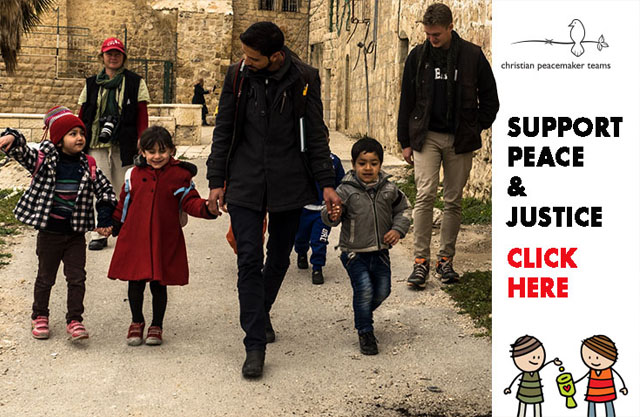 Our mailing address is:
cptheb@cpt.org

Consider a contribution to the Christian Peacemaker Teams to support peace and justice. Make a difference, click here bit.ly/CPT_Donate
 We know from feedback we receive that these photoessays affect more people and reach a wider audience than many of our publications. To help the Palestine team continue telling the stories of the people in the Hebron district, donate here.