CPTnet
July 14, 2015
AL-KHALIL (HEBRON): A week in photos, 3-9 July, 2015
No Evidence
 Pictured here: On 3 July, Israeli soldiers raided a shop close to Bab i-Zawiyah and took a 21- year-old man with them. They accused him of throwing stones without any evidence. He was  released after ten minutes due to the mediation of a Palestinian man who reasoned with a commander in Hebrew.

(03/07/2015)
Settler Kids
Pictured here: Settlers kids and teenagers attacked the Sider family by stone throwing and pouring water inside their house while soldiers stood idly by.

(27/06/2015)
Settler Harassing a CPTer
Pictured here: On 3 July, settler kids harassed a CPTer, trying to stop him from documenting the settler action against reopening Palestinian shops on Sahleh Street.
(03/07/2015)
 
More Rejection 
Pictured here: Palestinian girl passing a settler protest against any attempts to open  Palestinian shops on Sahleh street which the Israeli military forced the owners to close for fifteen years.
Arrest
Pictured here: On 8 July, a group of soldiers were patrolling, then stopped this man and arrested him.  They refused to  allow CPTers to gather any further information.
(08/07/2015)
ِ
'Suspicious' wrench
Pictured here: Soldiers stopped a Palestinian man almost ten minutes for having a wrench—a tool he uses in his work.
(10/07/2015)
Scouts!
Pictured here: Scouts group walking through the Old City in Hebron, which in this area is an act of resistance and steadfastness.
(05/07/2015)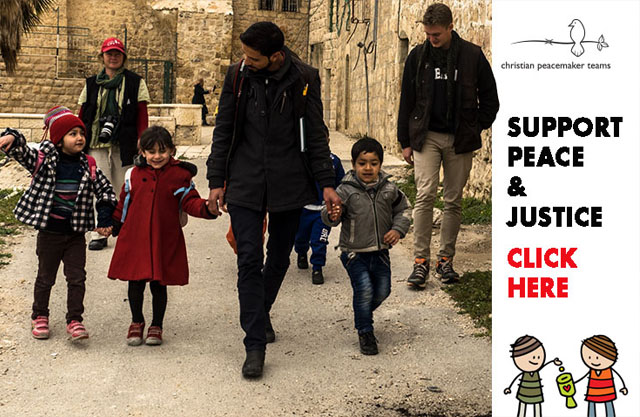 Our mailing address is:
cptheb@cpt.org

Consider a contribution to the Christian Peacemaker Teams to support peace and justice. Make a difference, click here bit.ly/CPT_Donate
 Like these photo essays? Show the Palestine team some love, donate here.