CPTnet
21 July 2015
AL-KHALIL (HEBRON): CPT Palestine week in photos, 10-19 July 2015
Unexpected Tour
Pictured here: On the late morning of 11 July,
settlers made an tour in the Old City escorted by heavy military presence. Settlers tours usually happen late afternoon and, besides one failed attempt, it hadn't occur so far during this Ramadan.
(11/07/2015)
Laylat al-Qader
Pictured here: 
Worshippers praying at Ibrahimi Mosque in Night of the Decree (Laylat al-Qader); prayers continued through the night.
(13/07/2015)
Night Frisk
Pictured here: 
Israeli soldiers body searching a Palestinian man at Sahleh Street.
(12/07/2015)
Provocation
Pictured here:
Israeli soldiers patrolling provocatively at Bab i-Zawwyeh in H1, outside their assigned area in H2. 
All Along the Watchtower
Pictured here: 

The iconic clock tower in Bab i-Zawwiyeh marks the spot where Israeli forces often suppress Palestinian protests at the border of H1 and H2
(19/07/2015)
The empty streets of Hebron
Pictured here: Palestinian woman makes her way through the barren streets of Hebron during Eid al-Fitr. 
(19/07/2015)
Last Friday of Ramadan
Pictured here:
 Boy standing next to relatives praying during the noon prayer. 
On the last Friday of Ramadan worshippers' prayer at Ibrahimi Mosque CPT counted, 1,762 Men, 556 women, 665 boys and 173 girls.
(11/07/2015)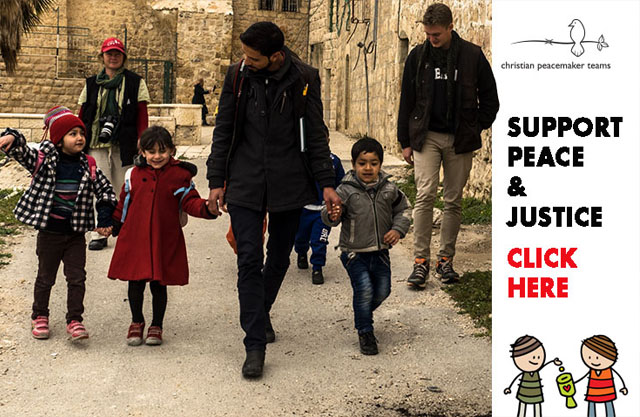 Our mailing address is:
cptheb@cpt.org

Consider a contribution to the Christian Peacemaker Teams to support peace and justice. Make a difference, click here bit.ly/CPT_Donate
Eid Mubarak!  At the end of Ramadan, it is traditional to donate to charity. *Looking expectant*