CPTnet
18 August 2015
AL-KHALIL (HEBRON): A Week in Photos 3-9 August 2015
A week of occupation in photos: Click photos for links 
STOP!
Pictured here:
A Palestinian father protects his 16-year-old son from Israeli soldiers.
(03/08/2015)
HOUSE PROTECTION
Pictured here: 
Palestinians sit at the entrance of the Abu Rajab house to prevent Israeli settlers from moving into the Palestinian house. The Abu Rajab family has been threatened with eviction while their house is in the middle of an Israeli court case.
(07/08/2015)
PLAY IS RESISTANCE
Pictured here: 
A Palestinian boy rides his bicycle during a military patrol.

 
(06/08/2015)
TERRIFYING MURDER 
Pictured here:
 

Israeli settlers fire-bombed a house near Nablus last week, killing a Palestinian infant and sending parents and brother to the hospital with life-threatening burns.  This violent face of the occupation draws nonviolent demonstration and prayers in Hebron. (Update: The father has since died of his injuries.)
OPRESSION XXL
 Pictured here: The Israeli military checkpoint  in Qitoun neighborhood  is being expanded in order to increase surveillance over Palestinian adults and 135 school children.
(03/08/2015)
PASSAGE DENIED
 Pictured here: Patrolling Israeli soldiers  block young Palestinian  returning to his house from  the market.
(06/08/2015)
THREE BROTHERS – ONE BIKE
Pictured here: Nothing builds trust like three riding on a bicycle.
(04/08/2015)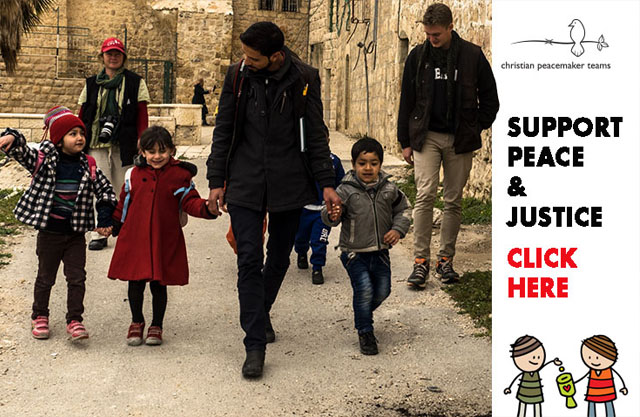 Our mailing address is:
cptheb@cpt.org

Consider a contribution to the Christian Peacemaker Teams to support peace and justice. Make a difference, click here bit.ly/CPT_Donate
To help the Palestine team continue telling the stories of the people in the Hebron district, donate here.