CPTnet
23 February 2016
AL-KHALIL (HEBRON): A week in photos 8-15 February 2016
A week of occupation in photos: Click photos for links 
42 Canisters
Pictured here:
In a three day period Israeli forces fired forty-two tear gas canisters at Qitoun checkpoint as Palestinian children made their way to school. Twenty-five of those canisters were fired in one morning and resulted in a 17-year-old boy needing emergency medical assistance. On the third morning CPTers observed five young girls who attempted multiple times to make their way through the fumes, only to turn back and go home.
(11/02/2016)
In Solidarity
Pictured here:
 Journalism teachers and students from Hebron College protesting outside the Red Cross. The action was in solidarity with Palestinian journalist Muhammed al-Qiq who has been on hunger strike for 85 days and counting. Al-Qiq began his hunger strike in November, shortly after Israeli authorities arrested him. He has been held in administrative detention since that time—indefinite imprisonment without charge or trial.  
(08/02/2016)
Military Checkpoint
Pictured here:
 Palestinian students in H2 on their way home from school. When many of the students get out from school at once, getting through the checkpoint turnstile takes a lot longer.
(09/02/2016)
Critical Condition
Pictured here: Israeli forces and police at the scene of the shooting of 21-year-old Yasmin Rashad al-Zarou, outside Salimeh checkpoint in Hebron. Israeli forces allege the shooting was in response to a stabbing attack. Palestinian sources state Yasmin was with her sister and neither attempted an attack when Yasmin was shot walking away from the checkpoint. She remains in critical condition.
(14/02/2016) 
Emergency Response
Pictured here: 
CPTers called for an ambulance after this 17-year-old boy who suffers from asthma was caught in tear gas on the way to school. Thankfully he was fully recovered by the next day.
(09/02/2016) 
Fatal Shooting
Pictured here:
 Israeli soldiers shot and killed 17-year-old Kilzar Mohd Abdulhaleem al-Owiwi near the Avraham Avinu settlement in Hebron, located near the Ibrahimi Mosque. Israeli forces allege she attempted a stabbing attack.
(13/02/2016)
The Friends We Meet
Pictured here: While patrolling on Shabbat, CPTers met these friendly children who asked for this photo.
(13/02/2016)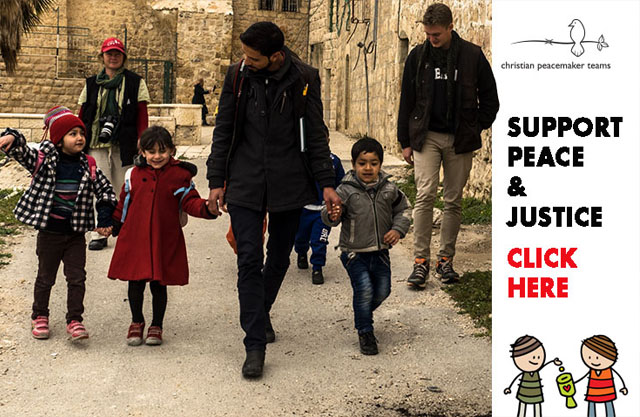 Our mailing address is:
cptheb@cpt.org

Consider a contribution to the Christian Peacemaker Teams to support peace and justice. Make a difference, click here bit.ly/CPT_Donate
These are the stories of the Palestine team's neighbors and friends
  Help get these stories from the people of Hebron out.