CPTnet
7 April 2016
AL KHALIL (HEBRON): A week in photos 1-6 April 2016
Against the Wall
Pictured here:
Israeli soldiers continue their practice of restricting the movement of Palestinians on their way to Friday prayers at Ibrahimi mosque. The soldiers were angry with this young man after he put his hood on his head while walking down the street. He had to return near the checkpoint where he was forced to lift his shirt and his pant legs. Then he was forced against the wall for a physical body search.
(02/04/2016)
Paint On My Face!
Pictured here:
Palestinian children painting their faces during an activity in the old city outsid the CPT apartment building.
(05/04/2016)
No Permission to Work!
Pictured here: Israeli solders stoping Palestinian workers in H2 of Hebron who were working in a Palestinian house next to Bet Hadassah settlement. The soldiers said that the Palestinian did not have permission to do the work. 
(04/04/2016)
Go Back
Pictured here:
Israeli border police at Qitoun checkpoint preventing two Palestinians and their children from going through the checkpoint. CPTers asked the Palestinian man why the Israeli Border Police sent them back, and the Palestinian said, "Because he wants to!"
(01/04/2016)
What Did I Do ?
 Pictured here: Two Palestinian students stopped at Salaymeh checkpoint by Israeli Border Police asking them where they live. CPTers were told to stop taking photos. 
(04/04/2016)
Demolition
 Pictured here: Israeli forces demolished six homes in the Palestinian village of Um Al-Khair. Thirty-five people, many of them children, are now without shelter.
(06/04/2016)
Hiding
Pictured here: A sibling to one of the kindergarten children CPTers walk to school shies away from the camera.
 (05/04/2016)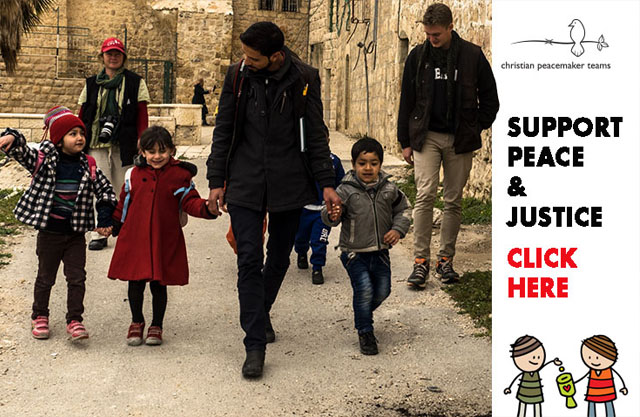 Our mailing address is:
cptheb@cpt.org

These are just a few of the stories of the people of the Hebron District
Help the Palestine team continue telling the stories of others living in the region.