Prayers for
Peacemakers April 21, 2016    Iraqi Kurdistan
Pray for the villagers in the Dohuk governorate of Iraqi
Kurdistan made homeless by Turkish cross border bombing raids in the past few
weeks.  Pray for Christian Peacemaker
Teams – Iraqi Kurdistan's efforts to reach out to these villagers as they
return to the area and reconnect with old friends.
*Epixel for Peacemakers April 24, 2016  Fourth Sunday of Easter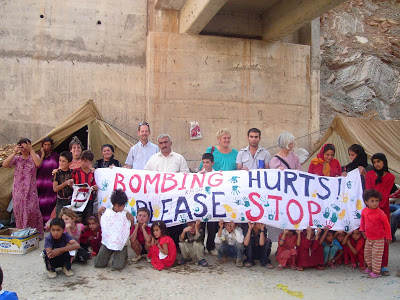 Kurdish villagers  in Zharawa camp displaced by Turkish bombing in 2012
And I heard a loud voice from the throne saying, "See, the home of God is among
 mortals. He will dwell with them as their God; they will be his peoples, and
God himself will be with them;
he will wipe every tear from their eyes. Death
will be no more; mourning and crying and pain will be no more, for the first things
 have passed away." Revelation 213-4
*epixel: a snapshot-epistle to the churches related to and appearing  with a text  from the upcoming
 Sunday's 
Revised Common 

Lectionary readings.