CPTnet
4 July 2016
AL-KHALIL (HEBRON): A week in photos, 25 June-2 July 2016
 Click photos for links 
Ramadan nights
 Pictured here: A cell phone company sponsored a celebration for the kids of the old city as part of Ramadan festivities.
(25/06/2016)
Jewish Israeli Settlers Protest 
Pictured here: 
A group of Jewish settlers protested in Al-Sahleh area near the Ibrahimi Mosque during the Muslim noon prayer, one day after a 13-year-old girl settler was murdered by a Palestinian boy in the Kiryat Arba settlement.
(01/07/2016)
Jewish Israeli Settler Tour  
 Pictured here:  On Saturday 2 July a Jewish settlers tour took place in the old city of Hebron.  During these tours, Palestinians' freedom of movement is reduced by the settlers' armed protection.
(02/07/2016)
More Restrictions!     
 Pictured here: Israeli soldiers and Border Police target young men and women for ID checks; they ask the men to pull up their shirts and check women's bags.
(01/07/2016)
Asking for the bodies back!
Pictured here: 
A peaceful Palestinian protest took place in Ibn Rushd area of H-1, in which people demanded the release of the bodies of their loved which  Israeli authorities have held for several months. 
(25/06/2016)
The end of the Holy night! 
 Pictured here: Saturday 3:00 am while Palestinians were ending worship on the holiest night of Ramadan (called Laylat Al Qader) with prayers and reading from the Quran, clashes started between youngPalestinian boys and Israeli soldiers.
(02/07/2016
Age limitations
Pictured here: 
On the last Friday of  Ramadan, Israeli Border Police prevented Palestinian worshipers between 15-25 years old from reaching the Ibrahimi Mosque.  This young boy, and later on the young woman in the picture were not allowed to pass. 
 (01/07/2016)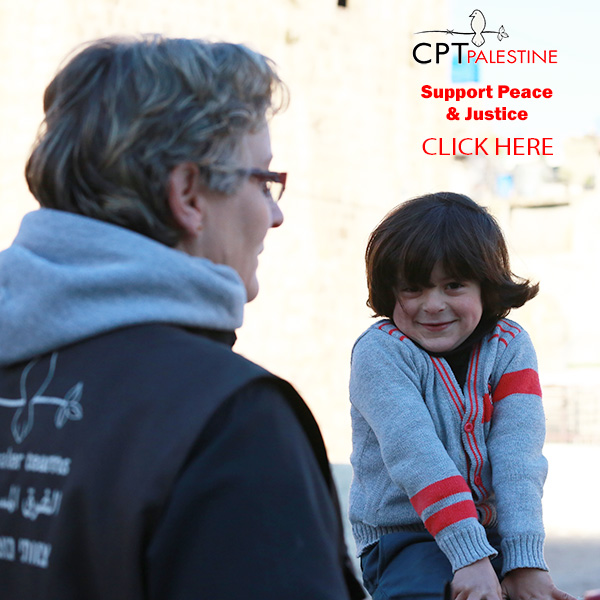 Our mailing address is:
cptheb@cpt.org
Consider a contribution to the Christian Peacemaker Teams to support peace and justice. Make a difference, click here bit.ly/CPT_Donate