CPTnet
15 August 2016
AL-KHALIL (HEBRON): A week in Photos 1-7 August 2016
A week of occupation in photos: Click photos for links 
Becoming larger
Pictured here: 
The Israeli occupation is building a new setup for the checkpoint at the Ibrahimi Mosque restricting Palestinians going to pray.
(1/08/2016)
New land controlled
Pictured here: 
Settlers are reinstalling the tents at the same place they used to be in 2008-2013, over a Palestinian land in Al-Buweira area next to the settlement of Givat Harsina.
(01/08/2016)
Childhood  
P
ictured here: 
Palestinian children playing in the Old City of Hebron during an Israeli soldier's patrol.
(03/08/2016)
Show me your ID   
 Pictured here: Israeli soldiers in Bab Al-Baledeya stopped twenty-one Palestinians and forced them to show their IDs. This kind of practice from Israeli soldiers is just to make their presence felt.
(04/08/2016)
The gates are closed well!
Pictured here: 
An Israeli armed settler is protected by Israeli soldiers, who allow him to enter Palestinian homes and check the gates and road blocks in the Old City on the side of Shuhada Street, which have restricted the movement of Palestinians since the 2000.
(04/08/2016)
ِAge 15-30 you are out!  
Pictured here:
Israeli border police at the Ibrahimi Mosque Checkpoint prevent Palestinians in the age range of 15-30 from going through the checkpoint to pray or reach their homes. The Palestinians in this age range need to go around the area, which takes more than fifteen minutes.
(05/08/2016)
Summer Sweet
Pictured here: Abu Zaid a Palestinian from the old city making a local type of sweet called "halabi". He has lived all of his life in the old city of Hebron—an example of "Sumud" or "resistance" in the area 
 (07/08/2016)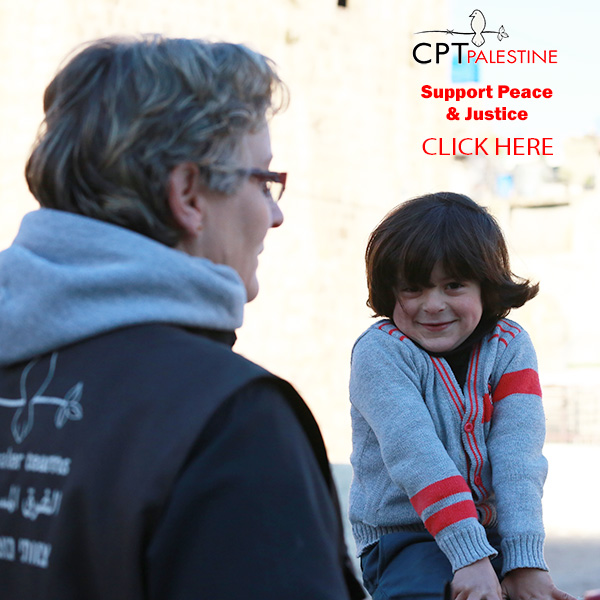 Our mailing address is:
cptheb@cpt.org
Consider a contribution to the Christian Peacemaker Teams to support peace and justice. Make a difference, click here bit.ly/CPT_Donate
The schoolyear will be starting soon. Are you interested in a short term assignment accompanying schoolchildren? Support the Christian Peacemaker Team's ministry of presence or Visit Palestine on a CPT Delegation!