CPTnet
25 August 2016
AL-KHALIL (HEBRON): A week in photos 16-22 August 2016
A week of occupation in photos: Click photos for links 
We  Want Freedom
Pictured here: An old woman calling for freedom and justice for Palestinians in Israeli prisons, as part of a demonstration led by the Hebron Defense Committee. ​
(18/08/2016)
Random Checks
Pictured here: 
Israeli soldiers randomly stopping Palestinian men and forcing them to lift their shirts and show their IDs.
(18/08/2016)
More control
P
ictured here: 
Two Israeli Border Police are closing the turnstile that leads to the Ibrahimi Mosque area and preventing a Palestinian man from passing.
(19/08/2016)
In Solidarity
Pictured here: 
Palestinians  conduct a role-play in H1 about the Palestinian hunger strikers in Israeli prisons. 
(18/08/2016)
Cameras 
Pictured here: 
An international woman documenting the settler tour last Saturday was documented herself by an Israeli soldier.
(20/08/2016)
Follow Up 
Pictured here:
More control and construction near Ibrahimi Mosque.
(16/08/2016)
Still Smiling


Pictured here:

 

"Peace Begins with a smile."  

Mother Teresa 
 (22/08/2016)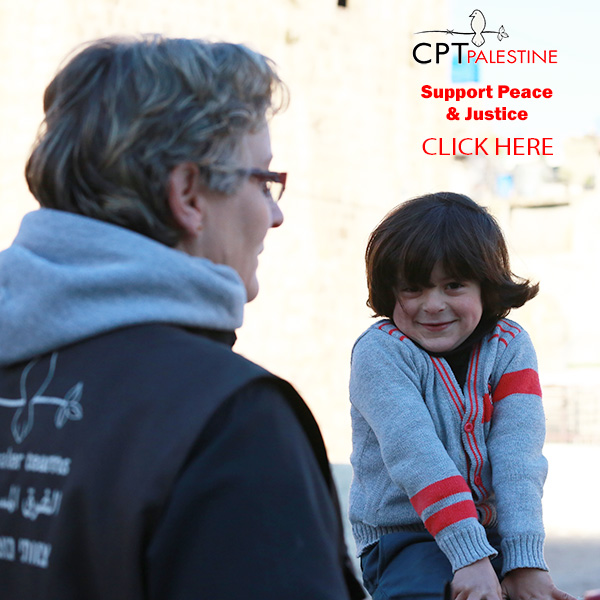 Our mailing address is:
cptheb@cpt.org
Consider a contribution to the Christian Peacemaker Teams to support peace and justice. Make a difference, click here bit.ly/CPT_Donate
The schoolyear will be starting soon. Are you interested in a short term assignment accompanying schoolchildren? Support the Christian Peacemaker Team's ministry of presence or Visit Palestine on a CPT Delegation!