CPTnet 
 27 September 2016
AL-KHALIL (HEBRON): A week in photos 20-26 September 2016
Routine Dehumanization
Pictured here:
An Israeli soldier pats down a young Palestinian. Stops and searches are routine procedure in the Old City, impacting the daily lives of residents young and old.
(September 20, 2016)
No Access
Pictured here: 
Palestinian youth are unable to take a direct route home. Instead many are forced to travel much greater distances, always at the whim of the Israeli military. 
(September 24, 2016)
Just Outside CPT'S Door
P
ictured here: 
A group of settlers and prospective settlers tour the Old City claiming ethno-nationalist ownership. The tour disrupts life in the Souq every Saturday. 
(September 24 , 2016)
Celebrating a New School for Girls
Pictured here: 
To avoid demolition these pre-fabricated modular classrooms are erected in the village of Zeef, serving as the communty's first ever school for girls.  
(September 25, 2016)
Immoral, Illegal Annexation Underway 
Pictured here: 
CPT delegates from Serbia, India, and the US visit Al Bowereh, a neighborhood facing increasing encroachment, violence, and harassment by Israeli Jewish settlers seeking to link the Kiryat Arbat settlement with a nearby outpost.
(September 24, 2016)
Resilience
Pictured here:
 Life and struggle persist in Hebron and throughout the occupied territories. We draw inspiration from all those who continue to practice nonviolent resistance.  
(September 24, 2016)
Who's Accompanying Who?
(September 21, 2016)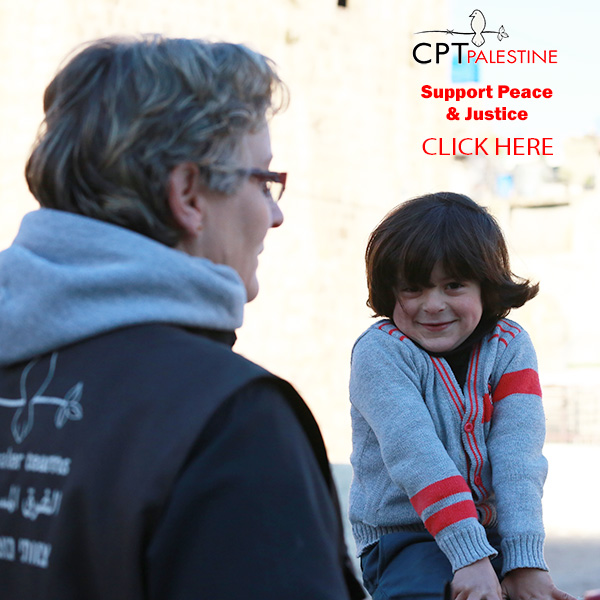 Our mailing address is:
cptheb@cpt.org
To support peace and justice contribute to Christian Peacemaker Teams. Make a difference today! Click here 
Small acts of connection, small acts of resistance. Would you like to be involved with that? Would you like to support it?  Would you like to visit Palestine on a CPT Delegation?