CPTnet
10 January 2017
 AL-KHALIL (HEBRON) A week in photos January 3- January 9
Stop and Check
Pictured here:
These two soldiers were out intimidating a group of children at Salaymeh checkpoint, one soldier with a stun grande in his hand, when this car drove past. Soldiers regularly stop Palestinian drivers for no apparent reason to check IDs and the contents of their cars. Sometimes the drivers are detained for just a few minutes, sometimes for much longer even when they find nothing. 
(January 3, 2017)
Permission Denied
Pictured here:
The weekly settler tour causes disruption and restricts movement for Palestinians. This past week the Israeli Soldiers restricted Palestinian movement much more than they have been lately. These two men were telling the soldiers where they needed to go but were refused. They were required to wait in the tunnel behind them until the 30+ settlers were ready to move on.
(January 7, 2017)
Night Maneuvers
Pictured here:
  The Paratrooper unit has been coming out regularly at night time the past few weeks. This night the soldiers were out training, practising on Palestinian men. To train new soldiers in the Old City, locals are subjected to arbitrary stops, ID checks and body searches. This time they checked their ID and searched them up against a wall while twisting their arm in the stress position. Here, the training also disrupts the brothers' homeworld journey. 
(January 6, 2017)
Journey to the Mosque 
Pictured here: An Israeli soldier follows two Palestinians on their way to al-Ibrahimi Mosque for Friday prayers. Many men are stopped and ID checked before entering, most having to walk through two checkpoints to get to the Mosque. Two weeks ago 49 men were stopped on their way to pray, 3 had to take their jackets taken off, were pat-searched and had their socks and shoes checked. 
(January 6, 2017)
Journey to School
Pictured here:
 This is a daily image of the checkpoints on school mornings. Under the Israeli occupation children are made to walk through checkpoints. They may be stopped, have their school bag opened and examined, or be subjected to a body search. It all depends on what the Israeli Border Police decide to do on that day. Read more about education under the occupation here… 

(January 8, 2016)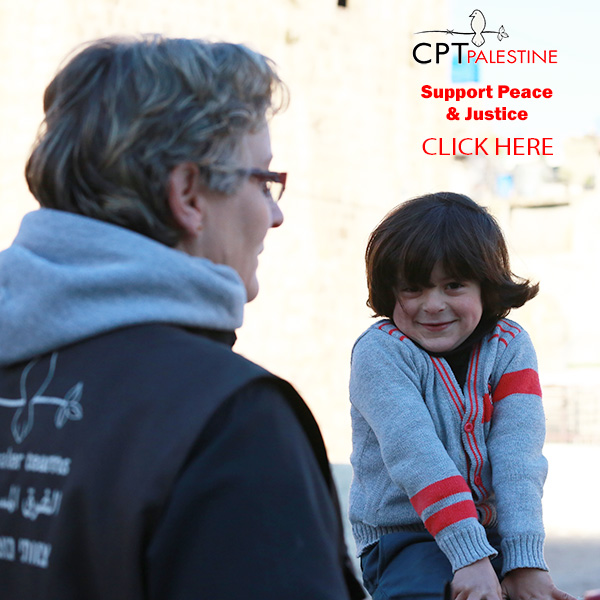 To support peace and justice contribute to Christian Peacemaker Teams.

 

Make a difference today! Click
here