CPTnet
7 February 2017
AL-KHALIL (HEBRON) A week in photos January 31- February 6
Soldiers breach Hebron Protocol
Pictured here: 
From 9:50pm until 12am five Israeli soldiers entered the H1 area of Hebron, which is under the control of the Palestinian Authority according to the Hebron Protocol. On this night they stopped 19 cars, one motorbike and ID checked 21 men. Two of these men were held for one hour and made to stand outside in the cold. The current paratroopers do regular ID checks and car searches, however, entering H1 breaches their own agreement with the Palestinian Authority. Read more…
(February 1, 2017)
Priority to settlers and tourists
Pictured here: 
As children are playing in a courtyard outside their home on a Saturday afternoon the large group of settlers, escorted by the Israeli Paratroopers storms through.  These "sight-seeing" and "educational" tours disrupt life most Saturday afternoons and are a way for Israel to claim space.
(Feburary 4, 2017)
Girls and their teachers protest
Pictured here:
 Contradicting an agreement reached earlier between the military and the school, soldiers decided to force teachers and their students to pass through a metal detector at Shuhada St checkpoint. Three girls refused to go through the metal detector, waiting in zero degrees, while multiple NGOs and their principal pushed for them to pass without the metal detector. After two hours they were finally allowed to go past without going through the metal detector.
(February 2, 2017)
Kindergarten Principle's bag searched
Pictured here: This checkpoint is directly outside the entrance to Saraya Kindergarten. The green gate to the kindergarten can be seen to the right of this image. The border police searched the bags of the principal and her assistant who pass this checkpoint every day to go to work. 
(February 5, 2017)
Women lead march
Pictured here: Women in the village of At-Tuwani, in the South Hebron Hills, led a demonstration calling for "women for freedom of movement" and ending settler violence. The action included the planting of olive trees, singing and marching, under the watch of settlers and at least 30 soldiers. The demonstration ended when the military declared the area a "closed military zone." 
(February 4, 2017)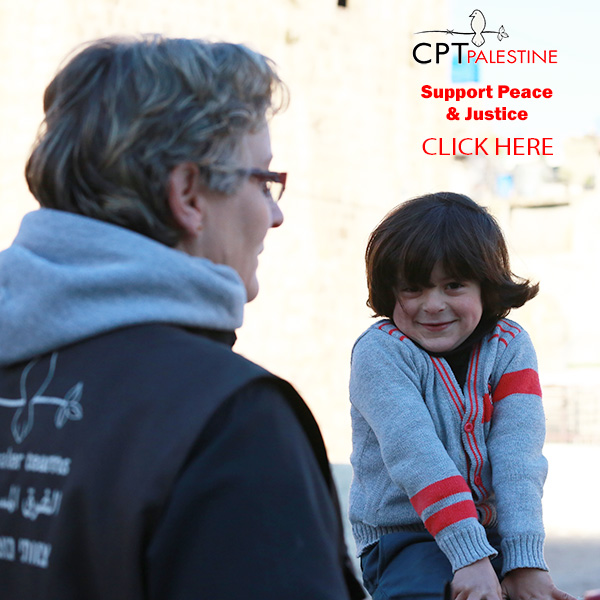 To support peace and justice contribute to Christian Peacemaker Teams.

 

Make a difference today! Click
here