CPTnet
21 February 2017
 AL-KHALIL (HEBRON) A week in photos February 14-20
"Dismantle the Ghetto, Take Settlers Out of Hebron"
Pictured here: 
After Friday prayers, Palestinians gathered outside the Ibrahimi Mosque to promote the campaign "Dismantle the Ghetto, Take Settlers Out of Hebron", which calls for Right to Life and Freedom of Movement. This campaign commemorates the 23rd anniversary of the Ibrahimi Mosque Massacre and subsequent closure of Shuhada Street. An action will be taking place on February 24th and CPT Hebron has been asked by their partners to be present on the ground and the extended CPT community have been requested to stand in solidarity in their respective communities.
 (February 17, 2017)
Metal shop workers shared the horrors of occupation
Pictured here:
 A CPTer sat and drank coffee with a group of Palestinian workers. One of the workers shared his story about the killing of his brother by the Israeli Military. He showed footage of the killing on his phone. A smartphone video bears witness to death.
(February 16, 2017)
Children's Candlelight Vigil
Pictured here: Twenty-five to thirty children gathered by the concrete wall outside of the CPT apartment, which blocks access to Shudaha Street and is a constant reminder of the restrictions of movement placed on Palestinians by Israel. Organised by Youth Against Settlements, the children held a candlelight vigil in memory of those massacred in the Ibrahimi Mosque in 1994 and called for an end to the occupation. Watch our video here.
(February 19, 2017)
Another Generation Remembers
Pictured here: The children present at Sunday's candlelight vigil are another generation that must suffer the occupation. This year marks 50 years of the illegal Israeli military occupation of Gaza, the West Bank and East Jerusalem. These 50 years have seen hundreds of thousands of Palestinians evicted from their homes and the subjection of Palestinians to apartheid. For more information and to read a report from CPT's partner B'Tselem, click here.
(February 19, 2017)
In Remembrance
Pictured here: This year marks 23 years since the Ibrahimi Mosque massacre, we hold those killed in our prayers, as we also pray for the end of the occupation and for peace.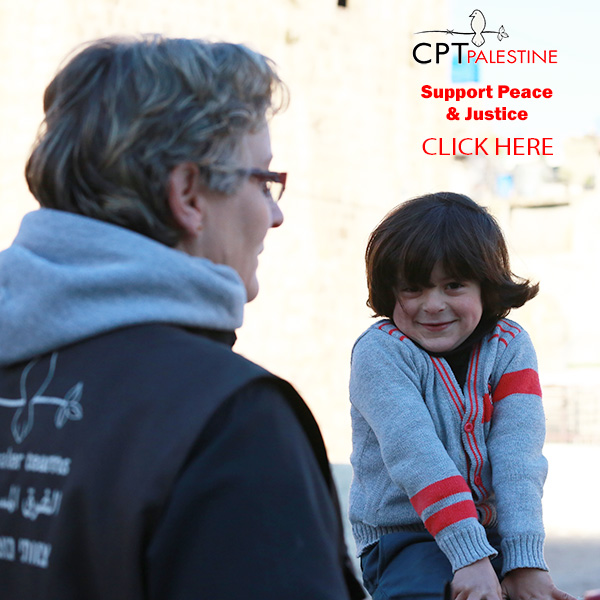 To support peace and justice contribute to Christian Peacemaker Teams.

 

Make a difference today! Click
here