CPTnet
28 February 2017
AL-KHALIL (HEBRON) A week in photos February 21-27
A week of occupation in photos: February 21 – February 27
"Dismantle the Ghetto, Take Settlers Out of Hebron" Action
Pictured here: 
The CPT Hebron team joined their partners on the ground during the "Dismantle the Ghetto, Take Settlers Out of Hebron" action. Different groups rallied under this slogan to call for the end of the colonisation of downtown Hebron, where Palestinians face increasing human rights violations through restriction of movement and isolation. This new campaign is part of the annual commemoration of the Ibrahimi Mosque massacre, where 29 Palestinians were killed. To read more about the campaign, click here.
 (February 24, 2017)
Resistance Takes Life
Pictured here: 
More than a hundred Palestinians, Israelis and internationals marched in protest of the ghettoization of neighbourhoods in Hebron by the Israeli occupying forces. The march called for the lifting of restrictions on Palestinians and freedom of movement including the reopening of Shuhada Street, which has been closed to Palestinians since 2001. Watch more about the annual rally and "Dismantle the Ghetto" Campaign here.
(February 24, 2017)
Non-violent resistance faces overwhelming military force
Pictured here: As non-violent marchers approached the Old City, less than halfway to their destination, they were met with disproportionate Israeli military force. Hebron Defense Committee, a CPT partner and rally organiser reported; "The night before the demonstration, the Israeli army raided the houses of Anan Danna of the Hebron Defense Committee as well as human rights activists Badee Dwaik and Imad Abu Shamsiyya. Soldiers threatened the men that they would be held personally responsible for the outcome of the protest." Read more here.
(February 24, 2017)
Disproportionate Response
Pictured here: Israeli soldiers shot tear gas, stun grenades and rubber bullets into the crowd of demonstrators, stopping the advance of the march. 
(February 24, 2017)
Not To Be Intimidated
Pictured here: Whilst Israeli military presence blocked her passage on the sidewalk, this Palestinian woman was not to be intimidated and made her way through the centre of the street, a symbol of Palestinian steadfastness.
(February 24, 2017)
Demonstration Outside Checkpoint 56
Pictured here: In front of Checkpoint 56, which stands at the start of Shudaha Street, the "Dismantle the Ghetto" Campaign proclaimed their continuing defiance of the illegal, immoral Israeli military occupation and of Palestinian apartheid. 
(February 22, 2017)
 
In Remembrance
Pictured here: This year marks 23 years since the Ibrahimi Mosque massacre. Officials, organisers and citizens gathered at the Martyrs' Cemetery in H2 Hebron to remember the many lives lost to the Israeli occupation.
(February 26, 2017)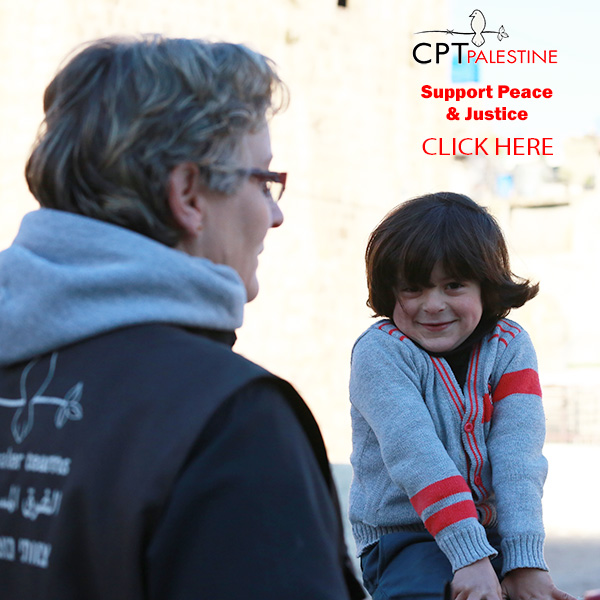 To support peace and justice contribute to Christian Peacemaker Teams.

 

Make a difference today! Click
here