A week of occupation in photos: March 14 – 20
Child Arrest
Pictured here: 
 A Palestinian boy, who threw a stone at the reinforced checkpoint, was ambushed by three Israeli Border Police who were hiding within different buildings in the area. The boy was subsequently arrested and taken to a prison without his parents knowledge, where he stayed for a number of nights.
 (March 14, 2017)
Checkpoint Closed
Pictured here:
 Palestinian
 s
chool children arbitrarily held at the checkpoint while trying to get to school.  Isreali military forces can lock the turnstiles at will, leaving Palestinians no choice but to wait for them to open it or take alternatives routes that can take more than an hour.   
(March 14, 2017)
Shuhada Street Revisited 
Pictured here:  The empty and derelict shops that line Shuhada Street are a constant reminder of the Israeli Occupation denying Freedom of Movement to Palestinians, closing down a once bustling market street that was the epicentre of Hebron.
(March 15, 2017)
The Occupation through a Window
Pictured here: Boys play soccer inside a settlement in the middle of the Old City. The location of settlements inside Palestinian neighbourhoods is unique to Hebron, subjecting these families to extreme settler violence and restriction of movement by the Israeli forces. 
(March 15, 2017)
Still Smiling
Pictured here: CPTers visit with kindergarten kids after the Jewish holiday of Purim, when settlers terrorised the children as they played in their school courtyard.  
(March 14, 2017)
 
We Are Together
Pictured here: Classmates embrace on their morning walk to school. 
(March 14, 2017)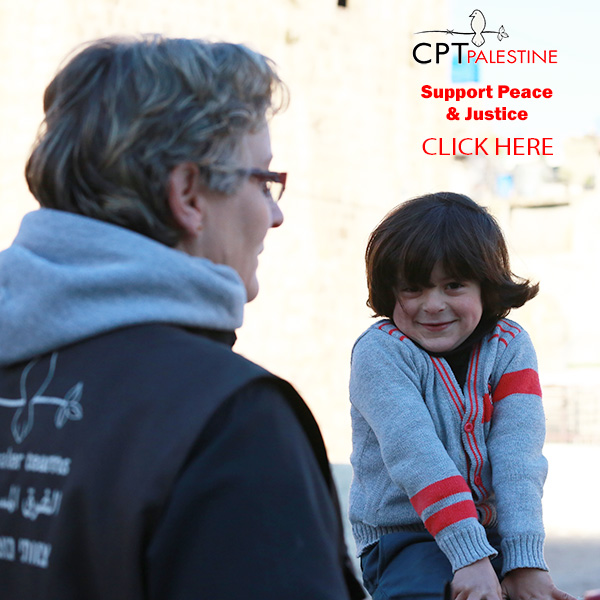 To support peace and justice contribute to Christian Peacemaker Teams.

 

Make a difference today! Click
here