A week of occupation in photos: March 21 – 27
Stopped
Pictured here: 
 Palestinians, including children and a differently abled teenager were stopped, detained and IDed on their way to work and school by Israeli soldiers. 
 (March 21, 2017)
More Obstacles
Pictured here:
 Palestinian
 s
chool children were stopped on their way to school. This week, the new Israeli Military brigade stopped and searched vehicles, detaining and IDing Palestinians. One Palestinian man was detained for over 40 minutes and had his phone searched, including his emails and Facebook.
(March 22, 2017)
Arbitrary Detainment
Pictured here:  "I was walking with a friend when they stopped and accused me of leaving a bag over there.  I was never carrying a bag.  They asked me why I had been on Shuhada Street and what story I was telling the tourists.  Then they took me to the military base and detained me for over 30 minutes". This was the testimony of a Palestinian tour guide, who spoke with CPT after being detained and interrogated by the Israeli military, whilst walking with a friend in the Old City.
(March 24, 2017)
Settler Incursion
Pictured here: Settlers and prospective settlers walked through the Old City on the weekly settler incursion. Palestinians shops once again shut down early and Palestinian locals were forced to walk past Israeli soldiers with their guns pointed in their direction. This serves as a reminder of the everyday psychological violence of the Occupation.
(March 25, 2017)
Dream, hope, work for the day to come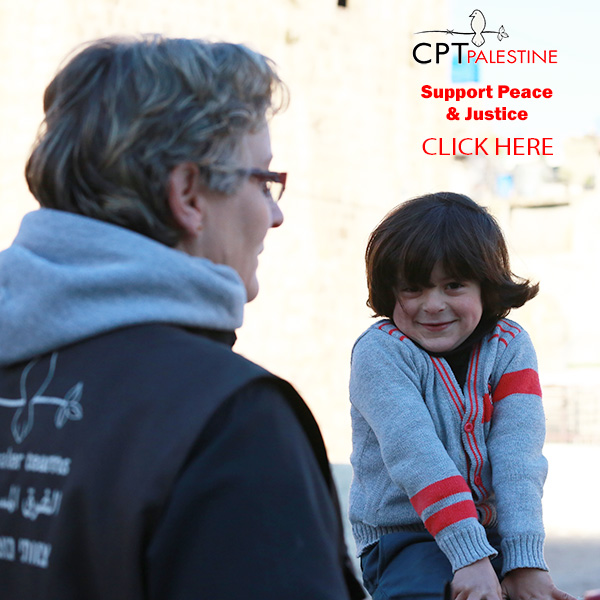 To support peace and justice contribute to Christian Peacemaker Teams.

 

Make a difference today! Click
here