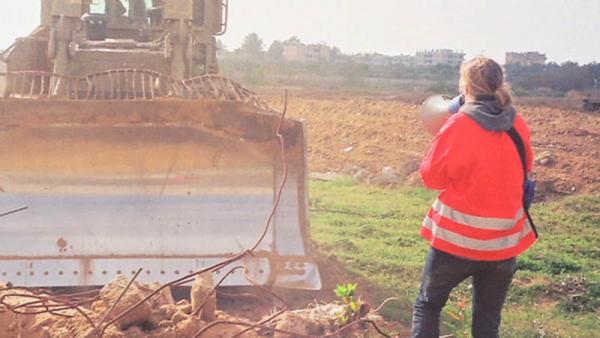 Photo by Joe Carr.  Carr worked with the International Solidarity Movement (ISM) in Gaza and later with CPT
in Hebron and At-Tuwani.  His sequence of photos showing the bulldozer running over Corrie was not enough
to convict the driver of her death.
by Kathleen Kern
In 2003, when the Hebron team heard that the Israeli military had crushed Rachel Corrie to death with a Caterpillar bulldozer, the news hit all of us hard. Some of us had conducted nonviolence trainings for the first waves of International Solidarity Movement volunteers that had poured into Palestine to address violence of the Second Intifada.  These volunteers had included Corrie, and Tom Hurndall who was shot and later disconnected from life support, as well as Brian Avery, also shot and permanently disfigured.  Most of us had at one time or another stood in front of a bulldozer or had friends who had stood in front of bulldozers in an effort to prevent the demolition of a Palestinian home.  Israeli soldiers and police had roughed us up, detained us or arrested us.  Until Corrie died, I don't think we believed that soldiers would run us, our friends or the Palestinian homeowners over.
Sixteen years later, if I heard soldiers had deliberately run over anyone with a bulldozer in Hebron in this current political climate the news would not shock me.  The number of extrajudicial executions that happen in this city simply because Palestinians make soldiers nervous is frightening.  Yet right now, less lethal things chip away at my soul: for example, young Israeli soldiers addressing professional Palestinian men in their forties and fifties as "walid" or "boy" as they walk through the checkpoint.  Also, can you think of anywhere else in the world where elementary schoolchildren are regularly, routinely blanketed with teargas as they walk to and from school? And little children scurrying from teargas aren't even the images that haunt me.  It's the faces of soldiers laughing I can't shake.  They laugh as they load the teargas grenades into their launchers, preparing to shoot them at the children.
Adam Serwer, a writer for the Atlantic, wrote an article last year about the Trump era, entitled "The cruelty is the point."  Nothing is quite so demoralizing as cruelty for the sake of cruelty, as watching grown men and women in uniform taking pleasure in mistreating children and our other neighbors in the Old City of Hebron.
But while this cruelty can haunt and even paralyze those who care about Palestinians, that's not the lesson to take away from Corrie's life.  I remember reading emails to her family after her death and being struck by her optimism and her plans for the future.  Her final email to her father particularly moved me:
Thanks also for stepping up your anti-war work. I know it is not easy to do, and probably much more difficult where you are than where I am. …

Also got an invitation to visit Sweden on my way back – which I think I could do very cheaply. I would like to leave Rafah with a viable plan to return, too. One of the core members of our group has to leave tomorrow – and watching her say goodbye to people is making me realize how difficult it will be. People here can't leave, so that complicates things. They also are pretty matter-of-fact about the fact that they don't know if they will be alive when we come back here.

I really don't want to live with a lot of guilt about this place – being able to come and go so easily – and not going back. I think it is valuable to make commitments to places – so I would like to be able to plan on coming back here within a year or so. Of all of these possibilities I think it's most likely that I will at least go to Sweden for a few weeks on my way back – I can change tickets and get a plane to from Paris to Sweden and back for a total of around 150 bucks or so. … Let me know if you have any ideas about what I should do with the rest of my life
As the cruelty of the Israeli military occupation increases, and internationals find it increasingly difficult to travel to the Occupied Palestinian Territories because the Israeli government denies them entry, Corrie's words remind us that Palestinian resistance ultimately does not rely on outsiders.  And, that like Corrie's father, internationals can undertake much of that resistance in their home countries and communities.  Corrie's words also remind us that while internationals can seriously commit themselves to the cause of Palestinian liberation, they do not have to take themselves so seriously.  We do this work knowing the risks, but assuming there is a future.  And that even if we cannot envision the change that is going to occur, we know that something will change.