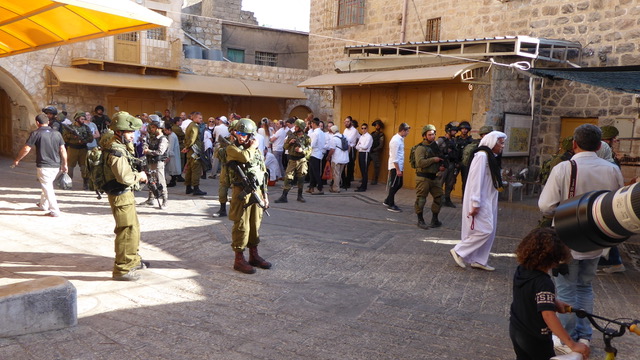 Please pray for the Palestinian people who have for generations lived in the Old City of Al-Khalil. Pray for their safety and wellbeing, especially when Israeli settlers come to assert their presence and take away their homes. Pray for the settlers that they may understand at least in part the wrongness of what they are doing.  Pray for God's mercy and justice to be realized among all who live and work in Al-Khalil.
The Old City of Hebron or Al-Khalil is home to around 40,000 Palestinians and about 600-800 Jewish Israeli settlers, living in six settlement colonies. The buildings they live in have been appropriated from their Palestinian owners by force. There are also several large settlement colonies on the edge of Hebron, the nearest of which, Kiryat Arba, is a short distance from the Old City. Despite the illegality of their settlements according to international law, the Israeli settlers are guarded by military personnel and border police in a ratio of at least two per settler.
Every Saturday there is a settler incursion into the Old City, when soldiers escort a sight seeing tour of Jewish Israelis around the old market. The organizers design the tour to be a disruptive and provocative occasion, where the settlers assert their "right" to be present in this place. The tour lasts for at least an hour and during Jewish festivals, several tours often take place. The tours are a significant interruption of daily life for the Palestinian residents and shopkeepers. In this photo, one can see the heavily armed soldiers guarding the settlers as they stop for an explanation by their guide.  Shop owners have closed their establishments in fear that the settlers will damage the goods on display. On the right of the picture, an elderly Palestinian man, carrying his prayer beads, makes his way through the crowd, and on the left, a young Palestinian man passes by. Otherwise, Palestinians tend to keep away to avoid the possibility of settlers assaulting or soldiers detaining them.