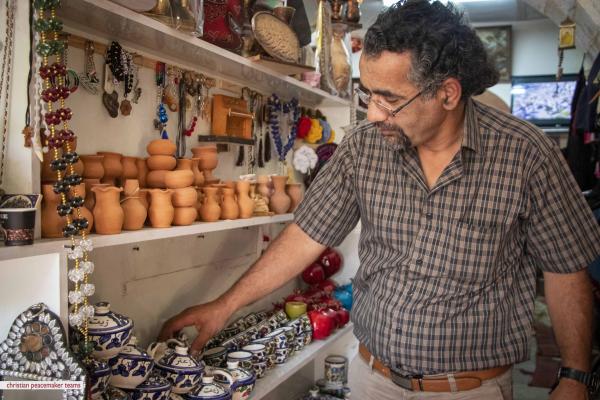 Bader al-Tamimi's shop stands at the entrance to the Old City of al-Khalil (Hebron). Bader is always there it seems— a warm, dignified, welcoming presence to tourists, residents of al-Khalil members of human rights groups, and fellow craftspeople alike. He offers each a seat and thrusts small cups of coffee or tea into their hands.
Born in al-Khalil, Bader has lived in and around the Old City all his life. He is thus a well-known figure in the area and acts as an important link between local traders and residents within the part of the Hebron Governorate based in the Old City. He has seen many changes, especially since 1997 when the Old City became part of H2, entirely under Israeli control. Over the years, five illegal Israeli settlements have established themselves in the heart of the Old City. One, Beit Romano, just opposite Bader's shop, is in the building that used to house Bader's and his brother's school. Ideological settlers now occupy the school.  Their menacing presence changes the atmosphere and sense of ease and belonging that Bader used to experience before.
Bader, an artist himself, provides a supportive hub and an outlet for the work of other artists from the Old City, and it was one of these, a potter named Zachariah al-Qudsi, that we went to meet at Bader's shop one Sunday afternoon. Zachariah trained first in fine art as a painter, but gradually changed to working with calligraphy, glass, and then with clay.  Creating beautiful things that are useful rather than just artistic is a foundation of the Islamic philosophy of art. For this reason he and his brothers now specialize in making pottery, and they have a factory just outside the Old City where they can often employ five or six workers.
"Anyone can be a craftsman, but not necessarily an artist," volunteered Zachariah, a statement that may come as a surprise. But his comment underlines the meaning and importance of art within Islamic Philosophy – the craft becomes art when it is offered as part of community, not merely as an individual enterprise.
The Old City has always been a city of craftspeople and artists, but the consequences of the Israeli occupation have severely reduced both the number of artists working there and of tradespeople of all kinds. Only a small glass factory and a sand artist remain as manufacturing enterprises, but there are still many shops that exhibit and sell the traditional work of Palestinian specialists – the unique and beautiful embroidery created by Palestinian women from the South Hebron villages in Area C; the delicately made clothes, soaps and perfumes, the traditional sienna clay pots, and multi-colored ceramic articles of all kinds. Bader explained that land cultivation had been the villagers' main livelihood for generations, but now the Israelis do not allow them to plant or cultivate the land anymore. To help alleviate this difficulty, Bader's Association provides workshops for the women from the villages that train them in embroidery skills. He then sells their work at his shop.
Bader and Zachariah agreed that their primary purpose now was to help local artists and shopkeepers of the Old City stay put and resist the ever-present threats and pressures from the Israeli government to vacate their premises for the easier conditions of H1. "To own or rent a shop here is not easy," explains Zachariah. "There is no guarantee that your work and effort will be rewarded. I'm afraid to have a factory here in the Old City, because after I pay the rent, settlers may take it over or soldiers can easily kick me out. Your work here is not protected."
Residents agree that the situation for them has grown increasingly worse— the settlers and army seem more aggressive, checkpoints have multiplied, and the number of Israeli soldier raids on homes and shops has increased. Despite these oppressions, the Old City remains what it has always been, a work of art in its own right, manifested by its ancient and beautiful architecture. In 2017, the Old City received international recognition when UNESCO awarded it World Heritage Status, recognition that Israel bitterly opposed. In addition to declaring this ancient Palestinian city of artists and craftspeople to be of outstanding universal value, the UN cultural committee also noted that it was in imminent danger from vandalism and destruction by the settlers in its midst.  The vital financial gift that should have accompanied the UNESCO award is desperately needed for the refurbishment and preservation of buildings and shops, but the Israeli government has blocked it, according to the Assistant Governor, Dr. Rafiq Aljaabari.
Bader is determined that visitors and the international community need to witness not only the suffering of the Palestinian people, but also their vibrancy, solidarity and strength. The artists and craftspeople of the community deliver that message— a hopeful message that despite the oppression and pain of the present, ultimately beauty and truth here will prevail.