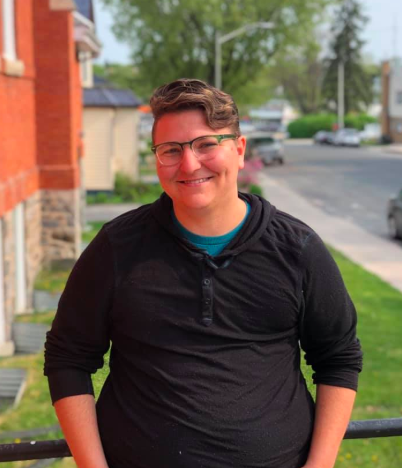 Christian Peacemaker Teams wish to celebrate this Advent season by sharing the reflections and experiences of CPTers who carry out the work of transforming oppression. 

Week to week, we will introduce you to a CPT Reservist who will share their story through the symbols of each Advent candle in honor of the season and invite you to take action to support transforming oppression. 
In preparation for the second Sunday of Advent, we begin with the theme of Joy.
****
Tell us a bit about yourself:
I'm a 32-year-old queer, trans Quaker living in Florida (U.S.), doing youth ministry for work, and music-making, reading, cooking, and gardening for fun (I am blessed that my work is also fun!) I try to get into a little holy trouble now and then.
What year did you join the CPT Corps? 
I did both my delegation (Borderlands) and training in 2015. 
What motivated you to join CPT? 
It's really important to me that my actions reflect my beliefs and values. I have big dreams and hopes for the world, as well as big grief about the way things are. Joining CPT brought me into a community of people trying to take meaningful action for peace and justice, and to do it in a way that is spiritually grounded and intersectional.
I really believe in CPT's work, and especially the way in which we seek to do it: in solidarity and partnership, attentive to dynamics of power and oppression.
I have also been so grateful to find a faith-based peace and justice organization that sees my queerness as a gift I bring to the work, not a drawback.
Which teams have you served on or how have you fulfilled your reservist duty?
I've done four stints with the Indigenous Peoples Solidarity Team/Project (2016-2019), including co-leading two delegations and making two trips to Standing Rock. I have done one stint each with the Colombia (2017) and Palestine (2018) teams. Currently, I am serving as CPT's Ombuds, coordinating the response to any complaints received as part of CPT's Harassment and Sexual Harassment Prevention Policy.
How do you find JOY in the journey of transforming oppression?
For me, the goal of transforming oppression is liberation. Every time I am able to understand something deeper, or take an action beyond what I knew I could do, or deepen a relationship in a way that wouldn't be possible if I wasn't actively engaged in the work of challenging and transforming oppression—I experience a glimpse of our collective liberation. Each of those glimpses is a real joy.
How do you participate in transforming oppressions through your work with CPT?
When I co-lead Indigenous Peoples Solidarity delegations, I get to witness the transformation that occurs as people get to know our partners in Grassy Narrows and Kenora, and dig deeply into questions about the history and present of colonization. Not only each participant, but each of their communities, as well, gets exposed to truths that settler culture tries to keep hidden about the exploitation, and also the resilience and power, of the indigenous peoples of Turtle Island.
My work as Ombuds—though on the surface very different from my CPT service on team—also feels to me like an opportunity to participate in transforming oppressions. I have seen so many examples of my U.S. American society treating people who have experienced harassment with contempt, dismissal, and victim-blaming. As Ombuds, I get to help make sure that anyone who experiences harassment within the course of their service with CPT is treated with deep respect and care, and taken seriously.
Please share a short prayer or reflection for advent, which has helped guide/motivate/inspire/sustain your transforming oppression work:
I use a lot of music for prayer and inspiration. This music video, by indigenous artist Nahko, uses footage from Standing Rock alongside the song's message about nonviolence, love, commitment, strength, and spirituality—which makes it about as good an Advent prayer as I know:
Advent Ask
For years, Anishinaabe people in Treaty 3 (Grassy Narrows) have been defending their land and way of life, and resisting imposed crises, such as mercury contamination of the English-Wabigoon river system 40 years ago which continues to poison fish that is a traditional staple of their diet. On December 9th, CPT, in support of Grassy Narrows Youth, will be hosting an Amnesty International Canada Write for Rights event for the Grassy Narrows campaign at the Mary Ward Center in Toronto. To view the event, click here. If you are based outside of Canada, you can still take part and send a message of solidarity and support to Grassy Narrows Youth, as well as an appeal letter to Prime Minister Justin Trudeau. Find out more on how to do this here.