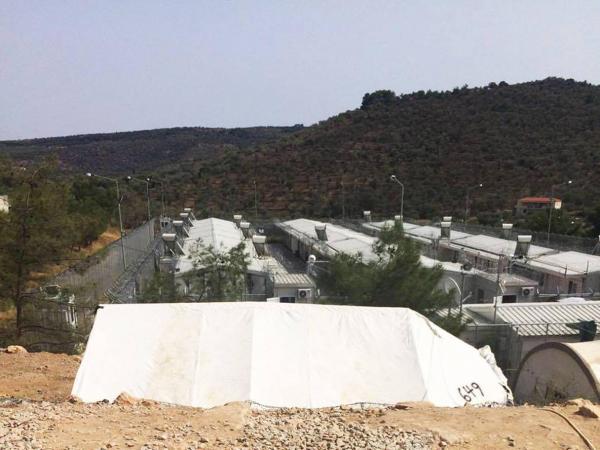 Pre-removal detention center seen from above in the Moria migrant campgrounds
Please pray for the deteriorating situation on Lesvos and the other Greek islands.  Apart from the new asylum law, which is stricter and which the government began implementing in January, the central government is also pushing through its plan to build closed detention centers for migrants on the Greek islands, in spite of the regional government, local governments and local Greek people protesting. 
Last Monday night, huge numbers of riot police arrived by ferry from Athens in the port of Mytilini to ensure the construction of a closed detention centre near Mandamados, in the north of Lesvos. Already in the port of Mytilini clashes have happened with local Greek people. Near Mandamados, the road that leads to the construction site of the closed detention centre was blocked at both ends by local Greek people in an effort to frustrate the building process. The riot police forces dispersed the crowds violently with teargas, flashbangs and batons.
Pray that the central government will change course after these massive protests against the plan to build closed detention centers on the Greek islands.  These detention centers will benefit neither refugees nor the local Greek people living there.