2 March 2020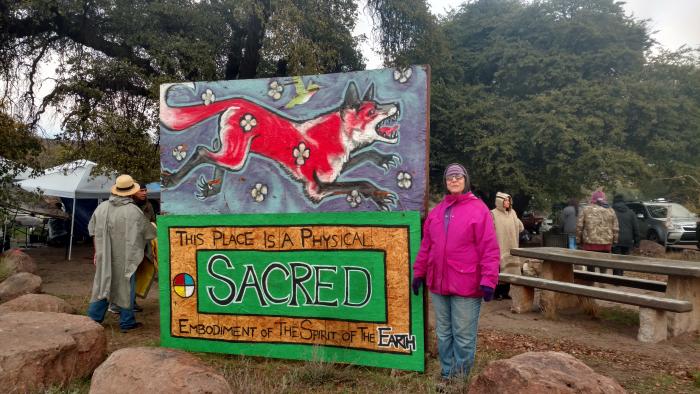 CPTer Carol Rose at Chich'il Bildagoteel
by Carol Rose
On 22 February 2020, dozens of San Carlos Apache and friends, including CPT reservists Carol Rose, Janie Stein and former CPTer Martin Bates, gathered at the sacred site Chich'il Bildagoteel (Oak Flat), on land also claimed by Arizona, USA.  Many of those present had just participated in the 6th annual 45-mile march and sacred run from the San Carlos Apache reservation to Chich'il Bildagoteel.   The event also included conversations by the fire, feasting and many layers of danced prayer in defense of sacred land.  Rain is always welcome in this high desert, so it did not dampen the spirits, but the stream it swelled did move the planned dance site.
Last November, Apache leader Wendsler Nosie returned "home" to live in this portion of his people's land from which they were removed "temporarily" in the 1800s.   Wendsler calls for both Indigenous and settler people to decolonize their minds and lives.  He described how living at Chich'il Bildagoteel is taking that process to a deeper level in his life.
Wendsler's presence and the prayer and actions of diverse supporters— including the action of this gathering—have thus far held back the U.S. government's plan to turn Chich'il Bildagoteel over to Resolution Copper, a company owned by Rio Tinto and BHP Billiton which are based in Britain and Australia. 
The mine planned for Chich'il Bildagoteel would destroy this sacred site, which includes ancient burial grounds.  It is also the site for ongoing sacred ceremonies of the San Carlos Apache, including those celebrating the coming of age of young women.  Wendsler compares Chich'il Bildagoteel to the National Cathedral of the United States.  Ancient oaks are rooted in this forested area.  There is also running water year round, a particularly precious miracle in this desert region. 
The U.S. government currently plans to transfer Chich'il Bildagoteel, currently claimed by the National Forest system, to Resolution Copper sometime between June and the end of this year.  However, Resolution Copper has already hired a local company to clear cut the area.  To date, Wendsler's presence and other solidarity actions have held back the clearcutting 
Calls to action from Apache Stronghold:
-Prayer, first and foremost. (See the PDF file of the prayer and information card below.)
-Advocacy for the Save Oak Flat Act in the U.S. Senate and Congress (which would prevent the land transfer to Resolution Copper)
-The presence of people of faith ready to show up and pray as need arises.