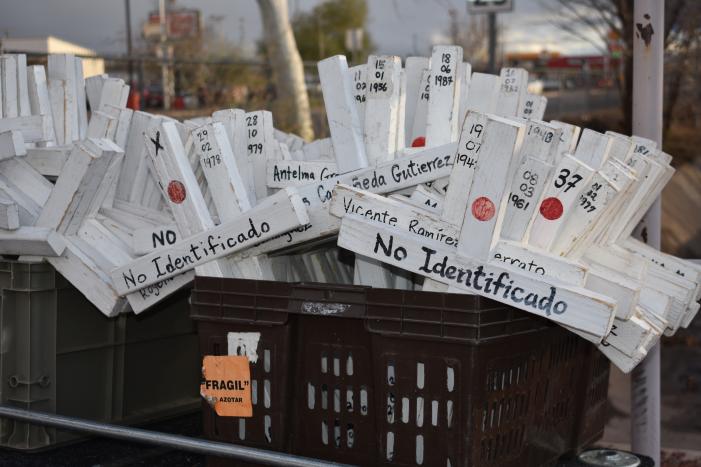 Pray with those in Douglas, Arizona who hold a vigil every Tuesday for migrants who have died in Cochise county trying to cross the U.S.-Mexico Border.
In Cochise County alone, over 300 migrants have died in the last 20 years. Across Arizona, over 3000 have died. Spanning the U.S.-Mexico border, over 7000 migrants have died.
At the vigil, participants raise crosses with the names of the dead and yell out the names as the attendees yell, "Presente!"  For those who did not have identification on them when they died, "No Indentificado" is written on the cross. Then the crosses are laid on the side of the road in remembrance. At the vigil, hundreds of crosses line the street that leads to the U.S.-Mexico border.
The US policy to stop migrants has been prevention via deterrence. Around cities along the border, the U.S. has built the wall and increased border patrol; outside of the cities, the wall is incomplete and border patrol is sparser. U.S. policy has not deterred migrants, rather it has pushed migrants into the hands of smugglers and further into arid deserts and rougher terrain. U.S. policy has not deterred migrants; it has killed migrants.
Therefore we pray. We pray for those who have died. We pray for the family members grieving their lost loved ones. We pray for the migrants who are taking the perilous journey across the border. We pray they arrive to a place of safety. We pray that the U.S. opens its heart and borders to those in need. We pray for peace, so that people no longer have to flee.