17 April 2020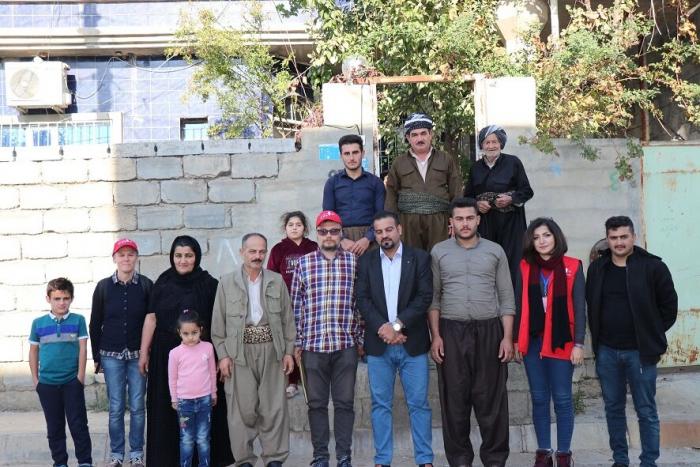 CPT and people from Zewka village in front of Kak Hamad Ameen's house in Qaladze.
Zewka is one example among hundreds of villages in Iraqi Kurdistan that have become casualties of the political tension and greed of their neighboring countries, Turkey and Iran. For the past thirty years, Turkey and Iran's air and land assaults have led to the death and injury of hundreds of innocent civilians and the displacement of thousands of villagers who live along their borders. Their governments use the "war against terror" as an excuse to massacre people from the villages located at their borders.  They violate the Iraqi Kurdistan region's border and threaten people's lives in the name of protecting borders and security. By most accounts, the Turkish and Iranian attacks have occurred before the eyes of international human rights institutions, the international community and the United Nations. 
CPT Iraqi Kurdistan, for the second time, visited some of the villagers of Zewke after Turkish bombing had displaced them. In 21 November 2019, Kak Hamad Ameen, Zewka's village leader, welcomed us at his house in Qaladze where his family and 14 other families are currently residing since they left their village.
After drinking some tea with Kak Hamad Ameen's family, we asked him about their situation and living conditions. He smiled and said, " 'What is it like to be displaced?!' As a refugee from another part of Kurdistan, in my heart I say… bitter." 
Kak Hamad Ameen took another sip from his tea and said, "We had hoped the government and organizations like yours would come to our aid while we were in the tents, but the cold arrived before you, and therefore each one of us was forced to move to somewhere else. As you see, my family and some other families are currently based in Qaladze and the rest of the villagers are distributed among other villages."
He talked about the difficulties of life in the city, and said, "Everything costs us twice as much. In the village, each of us stayed in our home, we did not pay any rent and we used wood to heat our houses. Also, our children wore their own simple clothes to school, and they did not need a dress code. Currently, the children are separated from their school friends and every student continues to study in another school."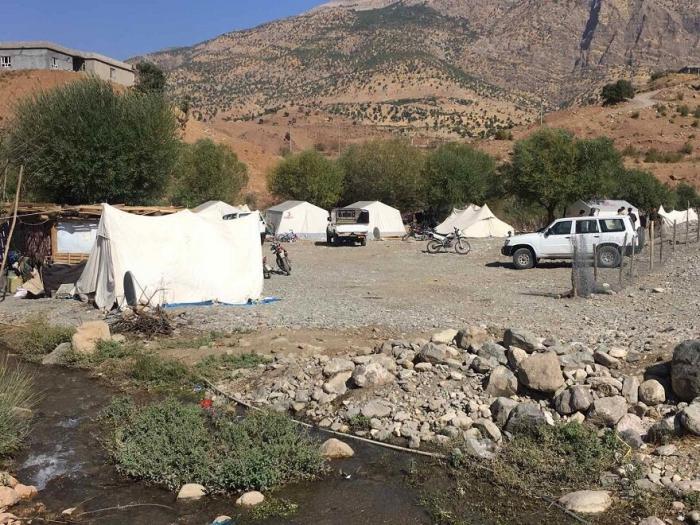 After the Turkish airplanes bombed Zewka, villagers became displaced and lived in tents for more than one month.
After the Turkish airplanes bombed Zewka, villagers became displaced and lived in tents for more than one month.
Mam Abdulla, the eldest person of his village, turned to us and said, "We should ignore all these problems; a homeland is beloved; thus we neither want our villages to remain abandoned nor do we want to give up our villages."
Pur Ayesh, mother of Kak Hamad Ameen, stayed silent throughout our conversation. When we told her that we titled our recent report, "Bombing or Flooding," after something she had told us, she gave us a sweet smile, which made me more curious to hear the story of their displacement and the bombardments from her perspective as a woman.
In the end, Kaka Hamad Ameen said, "The story of Zewka and hundreds of other villages in Qandil deserve to be heard because they all suffer the same consequences. Since the uprising, we have been forced to leave our village four times, and among all the neighboring countries, only Syria has not bombarded us." With a bitter smile, he continued, "However Iran, Turkey and Iraq during Ba'ath regime have not deprived us of that."
When we left Kak Hamad Ameen's house, we traveled through an area that has been bombed in the past to hear more stories from the victims of this unjust violence—violence that shows itself through bombardments, shellings, and sometimes through the military operations of neighboring countries. While I was gazing at the last burst of Qandil's sun, I was thinking about all the heard and unheard stories that are still in the hearts of the people who are living on the borders.