22 June 2020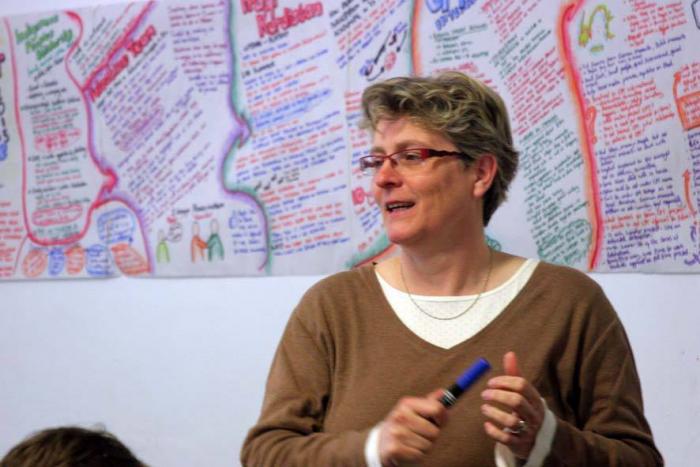 Muriel Schmid
On 25 May 2020, 46-year old George Floyd was killed by a police officer. As one officer kneeled on his neck, two others held him down while one other officer stood by. Sadly, Floyd's death is not an anomaly. Police have been killing black people with impunity since the time of slavery in the United States. In response to Floyd's death people across the world have joined demonstrations calling for an end to police brutality and declaring in a unified voice, "Black Lives Matter." Muriel Schmid, CPT's Administrative Director, has been attending demonstrations in Louisville, Kentucky. Below is an interview with her.
As the Administrative Director for CPT, you have been attending protests in Louisville, Kentucky. Why have you chosen to go to these protests?
I believe this is part of our CPT commitment to peace and justice and dismantling structures of oppression. Several of us, in different locations, have joined the protests alongside local grassroots movements. This is what we do! Around the world, we stand in solidarity with people resisting oppressive structures. From the streets of Colombia, Palestine, Iraqi Kurdistan, and standing in solidarity with Wet'suwet'en, this year, CPTers have shown up in protests to declare "enough is enough"—racism and oppression must end. 
What have you witnessed at the protests?
So far, I have seen only peaceful protests, even though I am aware there have been a few violent confrontations between protesters and the police. The protests have a special resonance here in Louisville. On March 13, Breonna Taylor was shot and killed by the police in a no-knock intrusion at her boyfriend's apartment. 
The city deployed the state police and the National Guard after some looting in the city; it was astounding to see the number of heavily armed law enforcement officers carrying their weapons, poised and ready. Clashes took place with the National Guard present, but when the authorities withdrew the police force and the National Guard left, things became peaceful. The risk for escalation when law enforcement is present is tenfold. It makes me reflect on CPT's commitment and understanding of nonviolence and how we have been applying nonviolent tactics for more than 30 years. I am glad to know that CPTers are attending protests. 
At times, I observed some tension between POCs and white protesters. It is hard for white people to let go of control and stand in solidarity – to stand in the back, or act when needed – demonstrating active allyship. Or when white people call attention to themselves, rather than handing the mike over, through their social media posts in performative allyship. It is an invaluable opportunity for CPTers to reflect on allyship and what it looks like in real life. It reminds me of our journey from "getting in the way" to "building partnerships to transform violence and oppression." What does partnership look like in this context? An article in Sojourners refers to privilege as debt. How white people decide to make reparation or address their debt is the challenge. 
Why is it essential to have CPT involved in these protests?
To bear witness! Several people outside the U.S. have asked me how violent and dangerous were the protests. All they're seeing are violent confrontations. In my experience, it has often been the case that foreign media like to portray the negative sensationalism of the U.S. and, more rarely, its positive side. We need to talk about peaceful protests, partnerships, and allyship; and amplify the voices of the black community the best we can, here and beyond our borders.
As the Administrative Director of an international peace organization, do you see points of intersection between what is happening in the U.S. and countries where CPT has its programs? 
Yes. Movements of nonviolent civil resistance have a lot in common with each other globally and even learn from each other. The current organizers here in the U.S. have learned from organizers in Hong Kong and other places. Systemic racism and structures of oppressions look alike, and the degree of militarization in our so-called democracies is very similar from one country to another. We often think of the extremes, like the military occupation of Palestine or the presence of armed groups in Colombia and Iraqi Kurdistan, and we forget that the U.S. is highly militarized. The moment people hit the streets, we see it. If one travels to the border zone with Mexico, the militarization of the U.S. territory is unambiguously visible at all times.
What is your message for the CPT constituency in the U.S.?
I am thinking mostly of white people. How do we continuously pay attention to our privileges, and are we aware of how they interfere in our activism? How do we build white accountability in our circles? What privileges do we have in today's context? We are living in a unique time, and we need to take this opportunity to be engaged in this conversation and challenge ourselves.