30 July 2020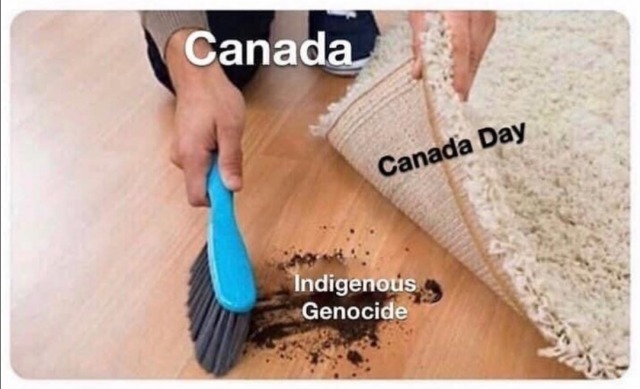 by Chuck Wright
Another Canada Day has passed this month. It arrived amidst a heated historical moment when conversations about race, social inequities, and our country's history have once again peaked within the public sphere thanks to the mass protests and organizing efforts of BIPOC1 against police brutality. Statues glorifying colonial conquest and slavery are being torn down or defaced by protesters, such as this one of Canada's first Prime Minister John A. Macdonald in Toronto, and yet I still encountered well-meaning settler Canadians wishing people "Happy Canada Day" and proudly flaunting flags.
It is odd to live in a part of the country where the well intentioned regularly acknowledge that their events happen on "unceded" Indigenous territory. It strikes me as paradox to express gratitude to the original stewards of this land while simultaneously acknowledging that we as settlers are knowing occupiers and accomplices in the theft of this land called Canada.  And, yet, here we are going about our business uninterrupted by this cold, hard fact and again witnessing the celebration of July 1. 
I have spent most of my life on Treatied lands in Canada. Cree and Anishinaabe teachers taught me that Indigenous people surrendered no territory at the signing of Treaties regardless of what's contained in the official text. Their teachings are largely why I decided to change my work email signature to "the stolen homelands" instead of "unceded," since land was historically never "ceded," a foreign concept introduced by the colonizer. In response, my boss pulled me aside one day to express his concern that my change was not aligned with the company's official acknowledgement. In response, I asked him what he thought "unceded" meant. His excuse was that he "has much to learn," yet he still expected me to change it back. 
Leading up to July 1, conversations flared up on social media regarding Idle No More's call to Cancel Canada Day. While loyal Canadians defended their right to celebrate, I once again ruminated on why it is so important to celebrate a nation-state that's built on stolen lands and the erasure of Indigenous peoples. What does it say about the soul of a country that it celebrates a state that was founded on genocide? How do we continue to live out this paradox that, on the one hand, acknowledges that we are participants in the ongoing theft of Indigenous lands and, on the other, proudly celebrates Canada? As Idle No More organizer Dakota Bear aptly stated, "we don't celebrate Canada Day for the same reason we don't celebrate the Holocaust." I recognize that this comparison is a difficult pill to swallow for most Canadians.  At the same time, Canada has commissioned two national reports in the past five years—the Report of the Truth and Reconciliation Commission on Residential Schools and National Inquiry into Murdered Missing Indigenous Women and Girls — that have painstakingly demonstrated Canada's policy toward Indigenous peoples is genocide and referred to it by that name. 
Given the historical and contemporary realities of Canada, the Canadian flag becomes an overt celebration of genocide, colonialism, and white supremacy. If I give flag-wavers the benefit of the doubt, I could assume a certain level of naiveté on their part. But, I don't think we as settlers have any legitimate claim to ignorance, unless it's a willful ignorance. Instead, if we insist on acknowledging Canada Day, let it be a day to grieve, reflect, and stand with those peoples who have nothing to celebrate, and let's turn our flags upside down until Canada has earned the right to turn it's flag right-side up again. #CancelCanadaDay #ShutCanadaDown
Black Indigenous People of Color.  Sandra E. Garcia "Where Did BIPOC Come From?". The New York Times. June 16, 2020