25 September 2020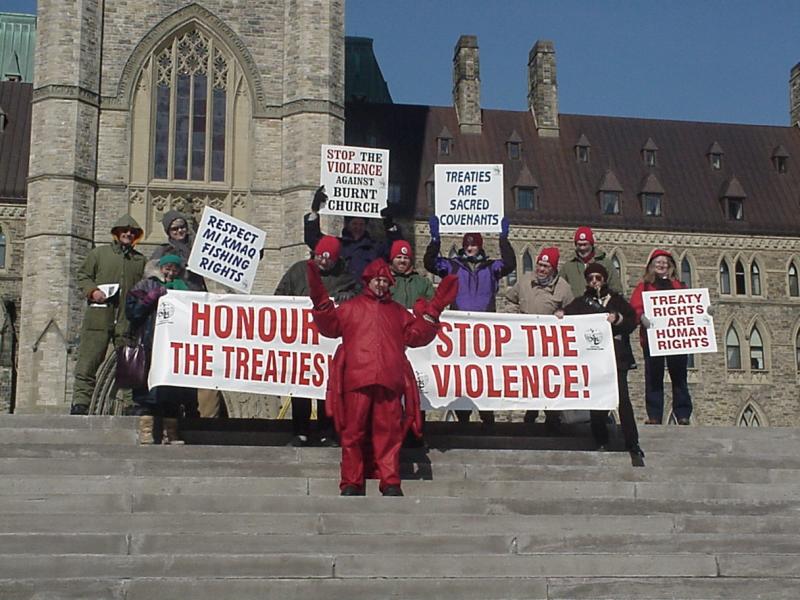 by Doug Pritchard
Over the past week, Mi'kmaq lobster fishers in Nova Scotia are exercising their inherent and treaty rights to a commercial lobster fishery. In response, non-indigenous lobster fishers are blocking their wharf access, chasing their boats, seizing their traps, intimidating fish buyers, and threatening violence. The Federal Department of Fisheries and Oceans (DFO) officials and Royal Canadian Mounted Police (RCMP) stand aside while calling for "the rule of law."
This redundancy reminds me of baseball player Yogi Berra's famous quote, "It's like déjà vu all over again."
The stories of settler violence coming from Sipekne'katik First Nation in central Nova Scotia this week mirror the experience of their kin at Esgenoôpetitj First Nation (EFN) in New Brunswick twenty years ago. 
At that time, CPT wrote:
"[Our] team witnessed a continuing denial by Canadian government officials of EFN's right to fish under its own Fisheries Act. EFN fishers were harassed and threatened. EFN traps and boats were confiscated. RCMP and DFO vehicles, boats, and aircraft were frequently present in and around EFN, creating an atmosphere of fear and intimidation. The enforcement of Canada's Fisheries Act, and the over-riding of EFN's treaty right to fish, were often accompanied by an excessive and even reckless use of force by Canadian officials. Throughout the conflict, Canada appeared to be unwilling to engage in any serious dialogue with EFN.
"CPT believes that these actions by Canada violated Canada's obligations to the people of Esgenoôpetitj under the treaties signed between Britain and the Mi'kmaw people, under international covenants to which Canada is a signatory, and under Canada's own laws. 
"In the Marshall case, Canada's Supreme Court had found in favour of Marshall because it said, "nothing less would uphold the honour and integrity of the Crown in its dealings with the Mi'kmaw people to secure their peace and friendship."
[from CPT's report, "Gunboat Diplomacy: Canada's Abuse of Human Rights at Esgenoôpetitj (Burnt Church, New Brunswick), Feb 2001"]
It appears nothing has changed. Canada has failed to foster peace and friendship with the Mi'kmaw nation and continues to violate Mi'kmaw sovereignty. Canada prioritizes the large non-indigenous fishing industry and refuses to recognize the small Indigenous fishery's rights and self-management. Sipekne'katik First Nation has issued licences to 7 of its members compared to the 979 commercial inshore lobster licenses held by others in the area. What is a fair and equitable share of the lobster catch?
The Assembly of Nova Scotia Mi'kmaw Chiefs has called for an end to the intimidation, racism and violence directed against their community members, for a return of their stolen lobster traps, and for the federal government to publicly affirm the Mi'kmaw nation's right to fish for a moderate livelihood. As Canada's own Supreme Court said over twenty years ago, "Nothing less would uphold the honour and integrity of the Crown."