On 1 July, Indigenous activists brought down the statue of Queen Victoria in Winnipeg, Manitoba. Queen Victoria was the head of the British Empire from 1837 until 1901. She is a figurehead of colonialism and genocide and was the sitting monarch for the British Commonwealth of Canada when residential schools began. Despite her legacy, some politicians, including the Premier of Manitoba, condemned the removal of her statue, stating it had no place in the process of reconciliation. (Although one might argue that maintaining a statue that celebrates colonialism is more apt to be a barrier to reconciliation than its removal). These critics failed to remember that since February 2020, when the Royal Canadian Mounted Police raided Unist'ot'en in Wet'suwet'en Territory, reconciliation is dead.
For some, the birth of reconciliation came through the 2008 apology by the Canadian state to residential school survivors. This apology was the entry point to the Truth and Reconciliation Commission—a powerful process where Indigenous survivors of residential schools gave testimony of physical, emotional and sexual assault at the hands of priests, nuns and teachers at state-sanctioned boarding schools. It was a sacred space of truth-telling. The TRC was proof to non-Indigenous Canadians (because Indigenous people already knew this) that residential schools were a cruel marriage of church and state that lead to physical removal of Indigenous people off their lands and committing cultural genocide. In 2015, the TRC concluded and provided Canadians with 94 recommendations and actions to be taken for there to be reconciliation.
However, by January 2020, five years after the report, only 10 of those recommendations had been implemented. In addition, instead of halting Indigenous land dispossession, which would be a sign of an authentic step towards reconciliation, pipelines were being built across Indigenous land and without their consent. An example is the CoastalGas Link pipeline that is carving through Wet'suwet'en Territory without the permission of the Wet'suwet'en Hereditary Chiefs. Instead of receiving consent from the Hereditary Chiefs or cancelling the pipeline altogether, the government sent in the RCMP to physically remove the Land Defenders from Wet'suwet'en Territory and criminalize them for their attempts to take care of and remain on their own land. On 13 February 2020, the RCMP raided the barricade at 66km in Unist'o'ten Territory, chainsawing through reconciliation—and killing it.
Since reconciliation is dead, toppling a statue cannot be a setback, as the Premier of Manitoba has stated. For folks of a pacifist mindset, hearing these words and adhering to this reality can be difficult. Yet while reconciliation is dead, there is a chance we can revive or, even better, transform it. However, the responsibility of reconciliation's revival does not fall upon Indigenous people; it lies squarely with the settler state that killed it. Reconciliation is rooted in one straightforward term: LAND BACK.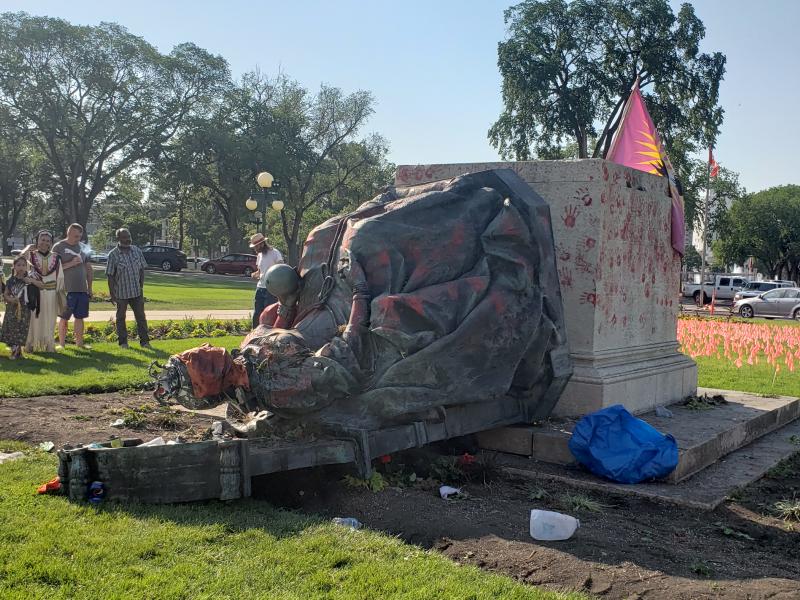 Land is at the crux of settler colonialism which is a toxic concoction of capitalism and white supremacy. Glen Coulthard writes that settler colonialism is about "territorial acquisition in perpetuity." This means the settler state was birthed through land theft and the displacement of Indigenous people and remains alive by continually stealing land and displacing Indigenous People. The treaty and reserve system, residential schools, the criminalization and incarceration of Indigenous People, the construction of pipelines on Indigenous land that poison the ecosystem all physically remove Indigenous People from their land and attempt to break the relationship Indigenous People have with their land. And here, it is essential to remember that Indigenous culture and spirituality are rooted in land. The ethnic cleansing of Indigenous people from their land and the cultural genocide carried out by the state has not stopped despite apologies, inquiries, or by signing UN Declarations.
So once again, if we want to enter a space of reconciliation authentically, the answer is LAND BACK. It means no more settler development on Indigenous land like in Six Nations and Kahnawake. It means halting ALL pipeline construction in Wet'suwet'en Territory. It means stopping all resource extractive industries that do not have the consent of the Indigenous Nation. It means paying rent to Indigenous Nations and not corporate landlords. It means defunding the police entirely. It means beginning a process of reparations. As long as any Indigenous person is unsheltered, without clean drinking water, or criminalized in jail, reconciliation remains an elusive word tossed around by politicians.
Reconciliation is currently dead in this country, so no toppled statue can create a setback. However, there is no need to despair; reconciliation can be alive again. For settler folks who are committed to the process of reconciliation, it is time to join Indigenous-led movements, educate your own communities, and fight both in parliament and in the streets for LAND BACK.