Independence, Missouri, USA Community Peacemaker Teams was awarded the International Peace Award by the Community of Christ Church and the Shaw Family Foundation on April 22 during the Church's international conference.
Honoring CPT's 35 years of peacemaking while presenting the award, the awarding body said, "We do this in recognition of your significant contribution to peacemaking through nonviolent accompaniment with those actively working for human rights and just peace. Your work includes spiritually-centred peacemaking, evidenced by your multifaith relationships and organization. And we recognize that you do all this with a willingness to put yourself in harm's way."
CPT now shares the honor of receiving this award in its thirty-year history alongside peacemakers such as Dolores Huerta, Father Virgilio Elizondo, Dr. John Paul Lederach, and other peacemakers who have made significant contributions towards building a more peaceful and just world.
Receiving the award, Muriel Schmid, CPT's Administrative Director, reflected on the conference's theme of courage. "The peace award gives us courage and encourages us literally to continue our journey of the work of peace and justice, which can never be done in isolation. Your community and our community will continue the walk together. It is a long and challenging walk, but we are walking in the same direction. We can be courageous together."
Sending a message of thanks from Colombia, CPT's Program Director, Milena Rincón, highlighted the centrality of "authentic relationships" in CPT's work of accompaniment which has shaped the accompaniment practice. "We remain committed to building accompaniment relationships where the voices and experiences of those who are part of CPT and those we accompany continue to be valued, heard and honored. To advance in this commitment, we must continue to reflect on our reason for being CPT, listen when we are challenged and affirmed, and be willing to transform ourselves and be accompanied on this journey."
Four CPT members attended the award ceremony and conducted workshops at the conference. The delegation said, "Since we arrived in Independence, we've received an extremely warm welcome from the peacemakers within the Community of Christ, and we're looking forward to partnering with them in the future."
A $25,000 cash award accompanied the recognition for CPT to continue the work of transformative peacemaking.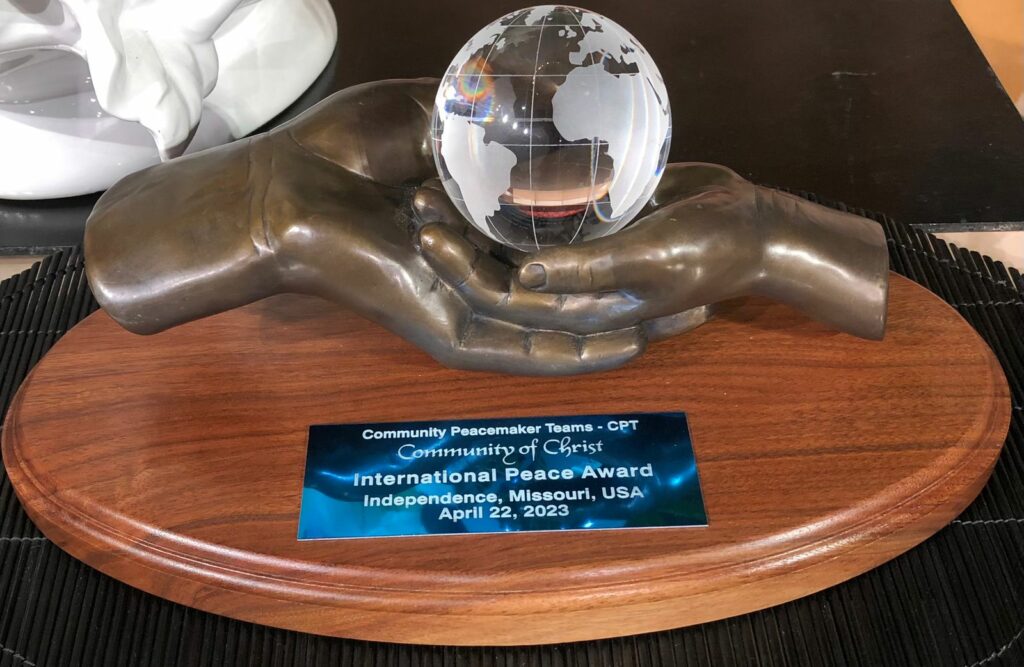 About the Award
The International Peace Award has been presented annually since 1993. Award recipients are individuals or organizations doing important work in justice and peace not currently associated with Community of Christ. Through awareness and recognition, the award helps promote the importance of partnerships beyond the boundaries of Community of Christ.
Honorees represent diversity in ethnicity, gender, and faith. Their work aligns with Community of Christ's efforts to 'Pursue Peace on Earth and Abolish Poverty and End Suffering' by seeking avenues of peace amid conflict, injustice, and suffering of persons, creatures, and the environment.
The award includes a financial gift to be donated to the charitable peace, justice, or environmental organization(s) of the recipient's choice. Honorees also receive a sculpture created by Wyoming artist Gail Sundell. Each is made slightly different to honor the specific peacemaking contribution of the recipient.