On the evening of Friday 30 June, an attack unfolded in Abu Es'efan, disrupting the Eid celebrations of Palestinian families residing in Wadi al Hussain near Kiryat Arba settlements in al Khalil/Hebron. Around 8:00 pm, approximately 100 armed settlers initiated their assault, targeting Fadi al Ja'bari's house. Despite resistance, they managed to break into Nabeel al Ja'bari's backyard, where a pre-wedding celebration with 80 guests was underway. Random gunfire ensued, terrorizing the attendees, including children, and causing property damage.
Despite the presence of over 22 fully staffed checkpoints and several army bases surrounding this small area, the Israeli army did not intervene. Instead, the settlers proceeded downhill toward Abu Es'efan's houses. The family rushed to protect the children and young people and get them inside, but the settlers proceeded with stone-throwing and indiscriminate shooting. Eventually, a group of Israeli military personnel arrived but focused their aggression on the Palestinian family, preventing them from filming the incident and ordering women and children indoors. Men were directed to gather on the road.
As the family began filming the incident, Jamal, who works with B'tselem and frequently documents such attacks, stepped out to film and confront the settlers. "We usually stay inside our houses on Fridays and Saturdays, but it was Eid, and people were enjoying their time," Jihad, Jamal's wife explained. The children, frightened by the escalating events, cried out in fear.
Although two soldiers initially arrived, they took no action. Approximately 30 minutes later, a group of Israeli military personnel appeared, but instead of stopping the settlers, they immediately targeted the family, preventing them from filming or leaving their homes. The soldiers resorted to shooting in the air as a distraction. "They asked all the women and children to go inside their houses. Then, each group of five soldiers stood in front of each house while the men were asked to gather on the road," recalled Jihad. Despite Jamal showing his B'tselem card and identifying himself as a journalist, the officer disregarded his credentials, discarded the card, and tried to confiscate his phone. When Jamal refused to surrender his phone, a soldier forcefully struck his hand, causing him to drop it.
Jihad recounted her intense fear upon hearing Jamal's voice. Every attempt to open the door was met with orders from soldiers and settlers to stay inside. Settlers even threw stones from her roof, raising questions about their authority. "Why would a settler give me an order? He acted like he was an officer," she lamented.
The Israeli police remained at the scene for an extended period, collecting bullets fired by the settlers from the fields. Are they collecting evidence of settler violence or are they removing them so they won't be used or recycled by Palestinians? We don't know.
Jihad described feeling helpless, confused, responsible, scared, and lonely. This was not the first time they documented Israeli violations, but it was the first time doing so without Jamal's presence during the incident: "It was strange and scary that he is the incident now." She emphasized the special bond she shares with her husband, imagining the helplessness one would feel if their loved one experienced such a situation. Observing her husband and three cousins sitting on the ground, surrounded by Israeli settlers and soldiers, Jihan feared the worst. She worried they would be shot or falsely accused of attempting harm. She noticed the soldiers handcuffing them and covering their eyes with a sheet before taking them away. All of them were released a week later.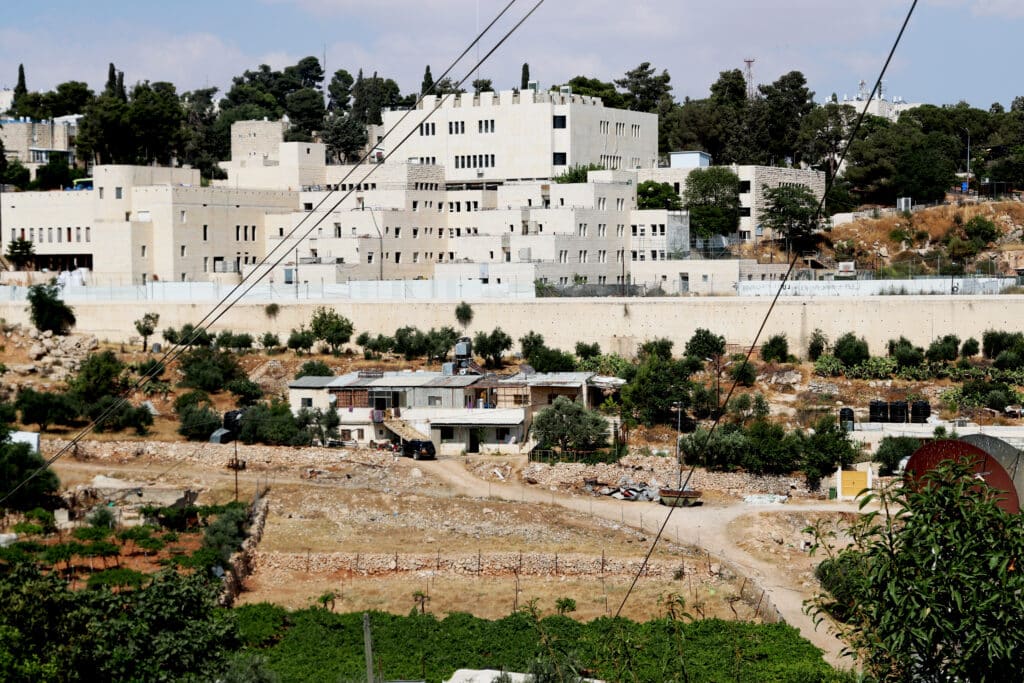 The situation has worsened since the Israeli far-right rose to power. Iamar Ben-Gvir, who now serves as the Minister of National Security and lives in Kiryat Arba' settlements has publicly declared that "Israel must write off the Palestinian Authority and that Palestinians in the West Bank must return to life under the Israeli occupation, without the right to have Israeli IDs (the blue IDs) or health insurance." He also insists that every Israeli should be armed. As a result, settlers now exert full control, with no possibility for reasonable conversations or negotiations with the soldiers. At the same time though, the families haven't felt that much of a difference since, "it's an occupying power at the end of the day," Jihad said.
Of great concern within the Palestinian community is the apparent coordination, protection, and impunity afforded to settlers by the Israeli SHABAK (Israel Security Agency). Settlers possess knowledge about places to target and are aware of when and where to carry out their attacks. This level of coordination between settlers and the SHABAK suggests a deep understanding of the operational landscape, ensuring that settlers will not face any harm during their assaults.
The implicit support and protection from the SHABAK raises troubling questions about the relationship between the state and settlers. It suggests that the state not only acknowledges the settlers' activities but actively enables and safeguards their actions. The settlers' precise knowledge of safe zones, timing, and their confidence in carrying out attacks while avoiding harm further reinforces the notion of a coordinated effort between settlers and state institutions.
A few days before the incident in Abu Es'efan, another settler attack took a place in Turmus'ayya on 21 June, where a Palestinian was shot dead. Days later we heard about the attack on Abu Es'efan family in al Khalil. Why when settlers attack Palestinians, is the result that a Palestinian is arrested, injured, or even killed, but no Israeli is harmed?
According to a report translated by "Arabi 21" from the original source "Maariv," there are claims that SHABAK possesses advanced digital capabilities and detailed information about all settlers. It is said that they even have a dedicated brigade tasked with preventing settler violence. However, there seems to be a disagreement between the former army chief, Aviv Kochavi, and the former Minister of Internal Security, Omer Bar Lev, regarding who holds the authority to address the issue of settlers committing crimes against Palestinians. The report suggests that SHABAK, despite having the necessary resources, is not fulfilling its responsibilities in dealing with these settlers effectively. The dispute between Kochavi and Bar Lev revolves around the question of which security authority is ultimately responsible for handling settler-related crimes. Both individuals have exchanged accusations regarding the specific duties assigned to them.

In an article shared by Israeli news agency Haaretz, titled "Israel's Army Chief Is Complicit in Jewish Terror," Avner Gvaryahu, the director of Breaking the Silence, expressed his frustration with senior Israeli officers who acknowledge Israeli terror as terror and yet do nothing about it. Gvaryahu highlighted that the reality has become clear to their eyes and observations, stating that the army forces have effectively transformed into an armed security force, protecting lawbreakers involved in committing massacres and ensuring their safe return home.
In a case like the settler attack on Huwara on 26 February, there have been varying narratives surrounding the actions of Israeli soldiers. CNN referenced the Palestine TV live-streamed footage, showing Israeli soldiers firing tear gas at residential buildings targeted by settlers, although settlers claimed tear gas was used to disperse the crowds. However, CNN's video review did not reveal direct fire by soldiers on the settlers. The Israeli occupation forces stated their intention to separate the two sides, using tear gas, stun grenades, and firing live rounds into the air to disperse the riot.
While CNN also highlighted the settlers' attack as a retaliatory response to previous Palestinian killings of Israelis, it sparked outrage within Israeli communities, where the Times of Israel quoted the Chief of General Staff of the IOF Halevi saying, "The IDF prevents many terror attacks every week. Unfortunately, we were unable to prevent the last ones. We also should have prevented what developed following the attack in Huwara."
It appears the Israeli occupation forces seem to stop only the attacks or "suspected" attacks by Palestinians, like what happened to Iyad Al-Hallaq, an autistic Palestinian man who was shot by an Israeli officer. The soldier claimed to have mistaken Al-Hallaq's phone for a gun, and shockingly (or not anymore), he has not been held accountable! Imagine if Iyad was an Israeli settler, would the officer remain free? Or would this incident even happen in the first place? Iyad was shot because he was a Palestinian—if that's not racism or apartheid, I don't know what it is!
It is noteworthy that Israeli and international mainstream media condemnation of settler violence— which has endured for years—has recently received increased attention during periods associated with the far-right government. This heightened focus may give the impression that the issue is primarily driven by the actions of the far-right. Previously, some Israelis would disregard these settlers as mentally unstable or accuse Palestinians of spreading misinformation, leading to frustration and skepticism. However, now there is a shift as it aligns with the interests of left-leaning Israelis and their protests against the right-wing government. I'm wondering, where were these voices when Palestinians were attacked before this current government took office?
From 30 May to 4 July, there were 117 reported attacks by Israeli settlers against Palestinians in the West Bank. These attacks caused injuries to 36 Palestinians, including three shot with live ammunition. One Palestinian man lost his life on 21 June in Turmus'ayya. Settlers also damaged Palestinian property in 71 instances. Israeli forces intervened in one incident, injuring 41 Palestinians, including two children. In total, around 160 Palestinians were injured, and 41 houses and 75 vehicles were completely damaged or burned.

With all this being said, and while the Palestinian Authority has no power or interest in protecting its people, I am wondering, HOW SHOULD PALESTINIANS PROTECT THEMSELVES?!!
The Israeli state was built on genocide, massacres, and ethnic cleansing. This is not only my narrative as a Palestinian but has been documented by Israeli soldiers who committed these crimes. "One soldier put the Palestinian in a cage and killed them, another one got the submachine gun, and shot them," attested a soldier interviewed in the Tantura documentary.
In 1948 there was limited media coverage, but proof still remains in the memories of those present. Seventy years later, there is still a campaign to erase memories and proof at all cost. Jihad mentions that the IOF took Jamal's phone to delete what he documented, and they even took their house DVR to check and delete all the films.
Experiencing such helplessness can be overwhelming, whether it's firsthand or when visiting affected families. However, despite these challenges, there is still hope that people will take the time to read, listen, and understand. You can raise your voice with us.