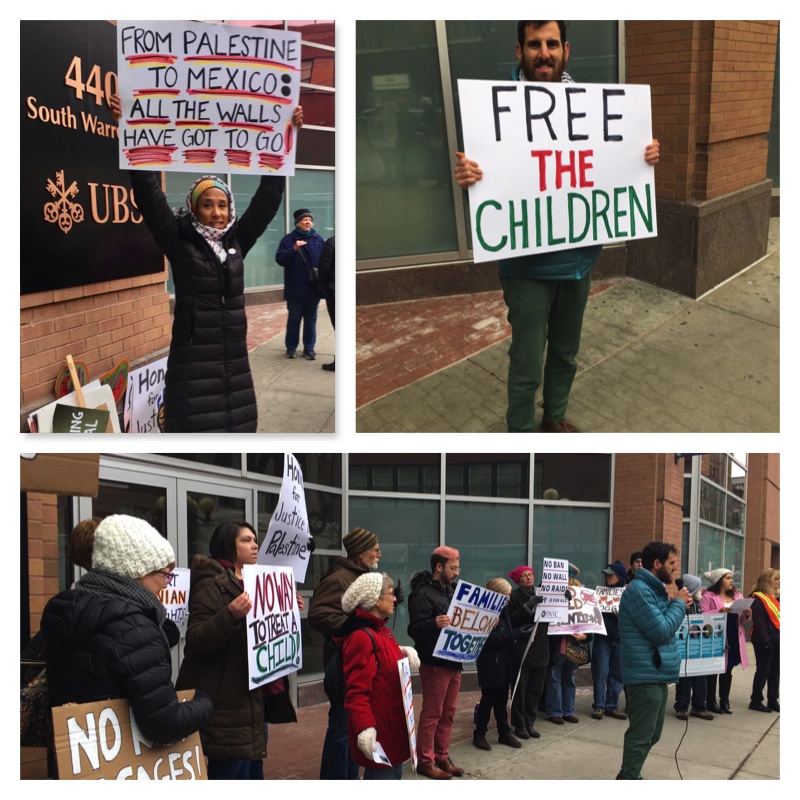 Arriba a la izquierda: Sarah Nahar Arriba a la derecha: Jonathan Brenneman
En el Día Mundial de el/la Niñe, 20 de Noviembre, el reservista de ECAP Jonathan Brenneman y la Ex-Directora Ejecutiva de ECAP, Sarah Nahar, participaron en el «Rally to End Child Detention from the US to Palestine» (Mitin para Poner Fin a la Detención de Niñes desde los Estados Unidos a Palestina) en Syracuse, Nueva York (tierra de la Confederación Haudenosaunee).
Realizado afuera de la oficina del representante John Katko, el evento fue organizado por el Consejo de Paz de Syracuse (CPS). Una coalición de organizaciones exigió que el representante tomara medidas en nombre de los derechos de les niñes. La Red de Defensa de Inmigrantes y Refugiadees de Syracuse destacó el trato inhumano para les niñes en la frontera EE.UU. / México. Desencadenado habló de la necesidad de poner fin al estado carcelario, en particular, el aislamiento solitario de niñes en Nueva York. Brenneman habló en nombre del grupo de trabajo de CPS, Justicia en Palestina, compartiendo experiencias de su tiempo con los equipos cristianos de pacificadores en Hebrón y destacando la Campaña Es Manera de Tratar un(a) Niñe. 
Sarah lideró a la delegación a entregar una petición con más de 700 firmas a una persona empleada por el Representante Katko, y solicitó el apoyo de Katko para la HR 2407 Promoción de los Derechos Humanos para les Niñes Palestines que Viven Bajo la Ley de Ocupación Militar Israelí HR 2407 (Proyecto de Ley de la Camara de Representansted de los EE.UU.). Cerraron el evento extendiendo la invitación a todes les participantes a llamar a Katko de inmediato y exigir acciones sobre los temas planteados en mitin. Al organizar la acción, Nahar y Brenneman aplicaron los conceptos que aprendieron en la capacitación de ECAP, especialmente los Roles en una lista de verificación de testigos públicos.