CPTnet
10 September 2011
SOUTH HEBRON HILLS: Israeli military demolishes homes and
bathroom in Umm al Kheer
The Israeli army demolished three dwellings and a bathroom
in the Palestinian village of Umm al Kheer early in the morning of 8 September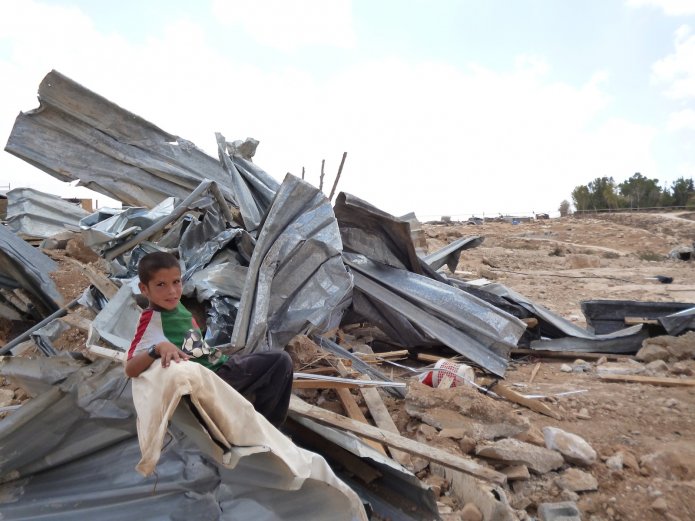 2011.  According to UN field
workers at the sight, the demolitions left eight adults and sixteen children
homeless.
The Israeli army and the District Coordinating Office
arrived at the village of Umm al Kheer around 7:00 a.m. and declared it a
closed military zone, preventing Palestinians and internationals from entering
the area.  The army then used a
backhoe and a bulldozer to demolish the three homes and the bathroom.  According to villagers, one of the
destroyed homes was a tent donated by Oxfam.  The other two were metal shacks purchased and built by the residents.
 The villagers said that this was
the second time that the military demolished the homes of the families living
in the metal shacks.
All of the destroyed structures had existing demolition
orders, but according to people from the village, the military arrived with a
demolition order that was not for the three homes and the toilet, but rather
for a taboun oven in the village.  The
military originally wanted to destroy the taboun oven three days earlier, but a
lawyer representing the village succeeded in getting a two-day stay on the
demolition order.  The military did
not demolish the taboun oven.
 Villagers said
that in addition to the four structures demolished on 8 September, there are twelve
additional structures with demolition orders, eight of which are homes.
"This [has been] done many times here in Umm al Kheer, and
it's catastrophic," said a resident of the village who, due to fear of retribution
from the Israeli government, wished to be referred to only as Suleiman.  "The toilet, it doesn't make problems
for Israeli security, the tent does not make problems for Israeli security, and
neither does this house, in which, inside, live twelve kids.  How will these kids live?  How will these kids sleep tonight?  How can we explain the truth to these
kids?  Maybe these kids will grow
up with fear.  They must think
about that."
Umm Al Kheer is a Bedouin village in C area (under Israeli
civil and military administration) built in the 1950s.  It borders the Israeli settlement of
Karmel (considered illegal under international law) established from the 1980s.  The village routinely experiences
harassment from the Israeli military and Israeli settlers.
The demolition is part of a clear strategy to push the
Bedouins away from the area around the settlement.  In October 2008, the Israeli army demolished ten house-tents
in order to clear the area for expansion of the Karmel settlement.  The demolitions left sixty people
homeless.  In July 2009, some toilets
were destroyed too, because the Israeli Civil Administration considered them
illegal.
Operation Dove and Christian Peacemaker Teams have
maintained an international presence in At-Tuwani and South Hebron Hills since
2004.
 More pictures of the incident are available here.